Soil Pollution Essay
Learn how to write soil pollution essay in English language in 300 words. Know more about an essay on soil pollution essay for students of class 4, 5, 6, 7, 8, 9, 10, 11 and 12. Now you can also write short essay on soil pollution for kids in 300 words.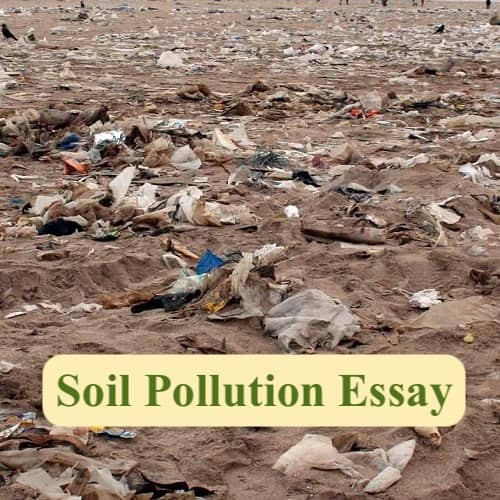 Soil Pollution Essay
Soil pollution refers to the pollution of soil due to the existence of chemicals in the soil some of which are natural and others are discharged by the man into the soil. There are various reasons behind the contamination of soil which includes the presence of pesticides, seepage of infected and polluted surface water to the underground stratum, dumping of oil and fuels into the water that reaches the soil, disposal of industrial waste into the soil, and much more. Chemicals like petroleum, lead, and other metals contribute to the pollution of soil which ultimately disturbs the natural balance of the soil.
Soil pollution adversely affects the flora and fauna of the environment along with affecting human beings. The effect of soil pollution varies from person to person and the type of toxin ingested or inhaled. Usually, children are at more risk of being infected by the soil as they play in the grounds and come in contact with the soil directly, hence they have more chances of getting sick by the polluted soil. So it is important to test the soil if you are living in an industrial area so that your kids don't get exposed to harmful pollutants.
Soil pollution affects human beings as they inhale harmful gases which move in the air when the wind blows and causes the infected matter to flow in the air. Health issues such as skin problems, irritation in eyes, headaches, nausea and some other serious problems like kidney and liver damage are caused due to soil pollution.
Therefore, in order to avoid any consequences of soil pollution, individuals along with the government should follow the control measures that will reduce soil pollution and makes the environment cleaner and greener. People should encourage the plantation of trees and promote the recycling of products in order to reduce the discharge of industrial waste into the soil.
Know More