Essay on India Gate
Learn how to write an essay on India gate in 300 words. You can get to write India gate essay in English language for students of class 4, 5, 6, 7, 8, 9, 10, 11 and 12 class. Now you can also write short essay on India gate in 300 words.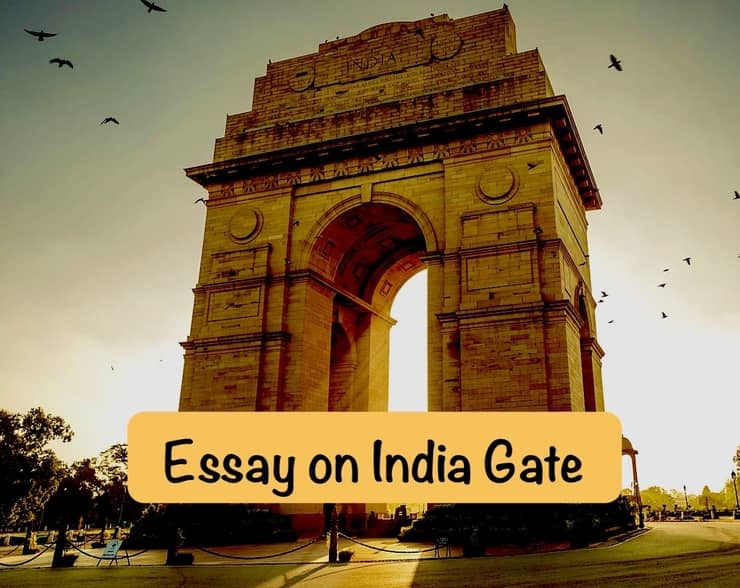 Essay on India Gate
India Gate is located in the capital city of India-New Delhi. It is a war memorial built to honour the heroes of the World War I. Earlier it was known as the All India War Memorial and it was developed and designed by Edwin Lutyens in the year 1921. India Gate is etched with the names of soldiers and the people who fought during the 1st world war.
The architecture of India Gate exhibits the various styles of Europe and India. It looks much like the Mahabalipuram architecture and Arc de Triomphe of Paris which is a famous monument of Paris. India Gate is 42 meters high and has 625 meters of the radius. It covers approximately 306,000 square meters of area and is designed like a Hexagonal structure. India Gate is built with the red and yellow unique stones which are brought from the Bharatpur. Also, there's a canopy present to the east of India Gate which was built in the year 1936 to honour King George V.-the ex-emperor of India.
There's also another structure called Amar Jawan which is located at Rajpath under India gate. It has a marble platform on which a monument is situated. The monument is etched with the words Amar Jawan written in golden letters. It also consists of a reversed rifle with the soldier helmet placed on it.
India Gate is a great tourist attraction in Delhi and one who visits Delhi never misses an opportunity to visit this place. All around the year, this place is full of tourists and local people who enjoy roaming here. It has become a good picnic spot as it is covered with lush green lawns and is a great place to visit with family.
Children also enjoy coming here as they can get a variety of toys and dishes here. In conclusion, India Gate is a place of pride for Indians as it exhibits the unconditional contribution of Indian army for its motherland.
Know More
Essay on Constitution of India