Reservation in India Essay
Read reservation in India essay for class 1, 2, 3, 4, 5, 6, 7, 8, 9, 10, 11 and 12. Know more about an essay on reservation in India in English for students in 500 words. What is the importance of essay on reservation system in India.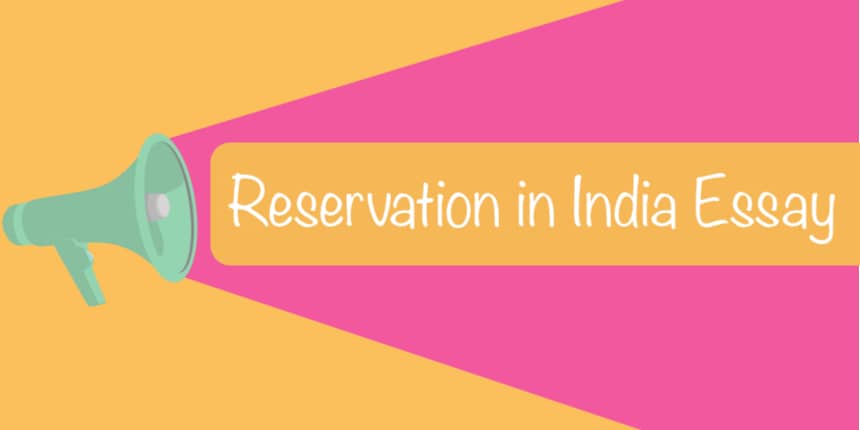 Reservation in India Essay 500 Words
In simple terms, reservation in India is all about reserving access to seats in the government jobs, educational institutions, and even legislatures to certain sections of the population. Also known as affirmative action, the reservation can also be seen as positive discrimination. Reservation in India is a government policy, backed by the Indian Constitution.
Before 2019, the reservation was provided mainly on the basis of social and educational backwardness (caste). However, after the 103rd constitutional amendment in 2019, economic backwardness is also considered. Apart from the reservation quota, additional relaxations like upper-age relaxations, additional attempts, and lower cut-off marks are also provided for various reservation categories.
The objective of providing reservations to the Scheduled Castes(SCs), Scheduled Tribes (STs) in services is not only to give jobs to some persons belonging to these communities. It basically aims at empowering them and ensuring their participation in the decision-making process of the State.
Advantages:-
Increase in no. of people from backward sections in various decision making i.e., Increase in representation from different sections of society.
It has helped some people from backward sections to achieve higher posts or services in the public sector as well as in some private institutions.
It has encouraged people to fight for justice whenever there is a violation of their human rights.
Meritocracy is meaningless without equality. First of all, people must be brought to the same level whether it elevates a section or decelerates another regardless of merit.
Reservation has slowed down the process of forward becoming richer and backward becoming poorer
Disadvantages:-
It is a form of ethnic discrimination. It's working as a barrier for inter-caste marriages.
It's the biggest enemy of meritocracy. It's resulting in the degradation of the quality of students and workers enrolled in different institutions.
It's propagating the notion of caste-based society instead of eliminating it.
Poor people from forwarding castes don't have any social or economic advantage over rich people from a backward caste. If this prevails, it may result in the formation of another backward caste of people belonging from poor people of forwarding caste.
Beneficiaries of reservation are largely from dominant class in backward castes. The marginalised section still remains marginalised.
Know More
Should Jobs Be Reserved For Women
Chemicals in Food Production and Preservation