Essay on Happiness
Learn how to write an essay on happiness gate in 300 words. You can get to write happiness essay in English language for students of class 4, 5, 6, 7, 8, 9, 10, 11 and 12 class. Now you can also write short essay on Happiness in 300 words.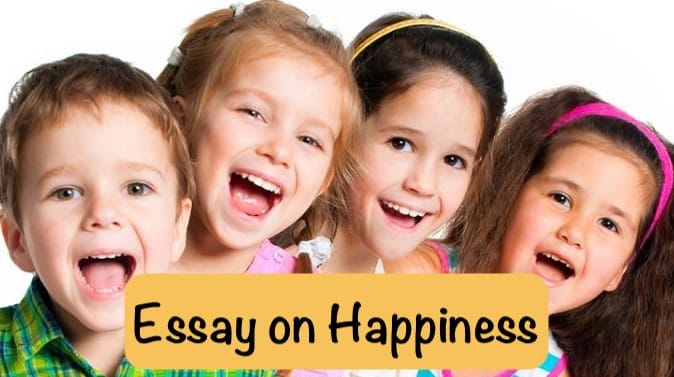 Essay on Happiness
Happiness is one of the most sought after factors in life that is considered above all the wealth and materialistic things. Everyone in this world wants happiness to live peacefully in their life. Nobody cares about money when they are not happy. Money cannot bring happiness; it is the only thing that comes from within and not from the outer world.
Every time you accomplish something, you feel good and happy, this may be called as short term happiness. For example, eating something you love, purchasing your favourite dress, watching your favourite movie or going around the place you love are some of the things which can bring happiness in your life. Happiness invigorates our soul and gives the feeling of content and satisfaction. However, we must try to find happiness in everything then only we can feel pleased in life.
There are various ways to find happiness some of which are:
One must be satisfied with what they have in life. Unnecessarily cribbing over things will never bring happiness in your life.
One must enjoy and cherish his present life rather than thinking about the past and dreaming about the future.
One should always move forward in life and should never blame things that went wrong in life. one should set new goals in life and must leave behind the past.
Always thank god for all his blessings and mercy.
Surround yourself with positive people who can always boost your confidence and help you become successful in life.
In conclusion, happiness is a healthy feeling that keeps us mentally and physically strong. A happy person is free from all the stress and anxiety and always spreads positivity everywhere. Always try to find out real happiness in your life and always keep one thing in mind that your happiness does not depend on a person or worldly things, its presence within your soul.
Know More
Laughter is the Best Medicine Essay