Essay on Indian Army
Learn how to write an essay on Indian army in 250 or 300 words. Indian army essay is asked in 4, 5, 6, 7, 8, 9, 10, 11 and 12 class. Students should now how to write a short essay on Indian army.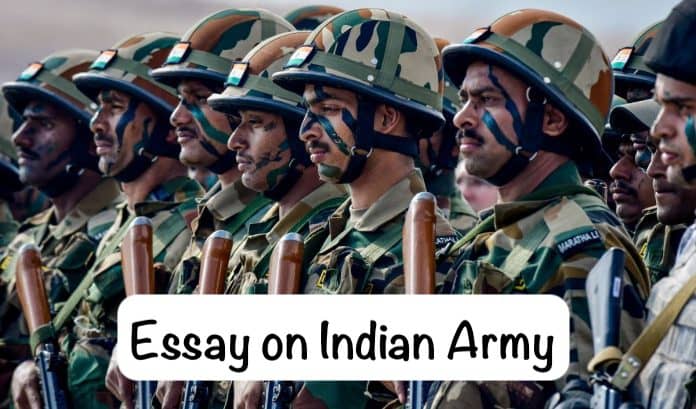 Essay on Indian Army
Indian army is the pride of our nation and every citizen of India has respect, love and honour for the Indian army for its unconditional efforts to serve the country. We are alive and living in peace with our family because of the Indian army as our brave soldiers work day and night to protect us from the enemy so that we can sleep peacefully. We can never thank them enough for their sacrifice and hard work. They compromise their own lives to save their country and the people. The overarching goal of the Indian army is to maintain National security and unity of India.
Indian Army started from the different armies of the princely states which then became the British Indian Army which ultimately became the Indian National Army after India got independent. The Indian Army is separated into 6 operating commands and 1 training command. Each command has its own officials, divisions, brigades and regiments. All the commands of the Indian Army have won various battles and have participated in various campaigns. Indian Army has always proved their love for the nation and many soldiers have sacrificed their lives in the battles which clearly exhibit their patriotism for the nation.
A nation always comes first for the Indian Army and it is always ready to serve the country and its motherland whenever required. Soldiers are the real heroes of the country which may not come on screen but play the best part which can only be felt by the citizens of the country.
The safety of our country depends upon the Indian Army and its brave soldiers. Every time when the nation is in crisis, it is the army that comes forward and saves its country. During natural calamities and rescue operations, it is the Indian Army that takes care of the people and helps them come out of the danger. Therefore, every citizen holds great respect and honour for the Indian Army.
Know More