Surgical Strike Essay
Read surgical strike essay in English language in 300 words. Know more about essay on surgical strike for students of class 1, 2, 3, 4, 5, 6, 7, 8, 9, 10, 11 and 12.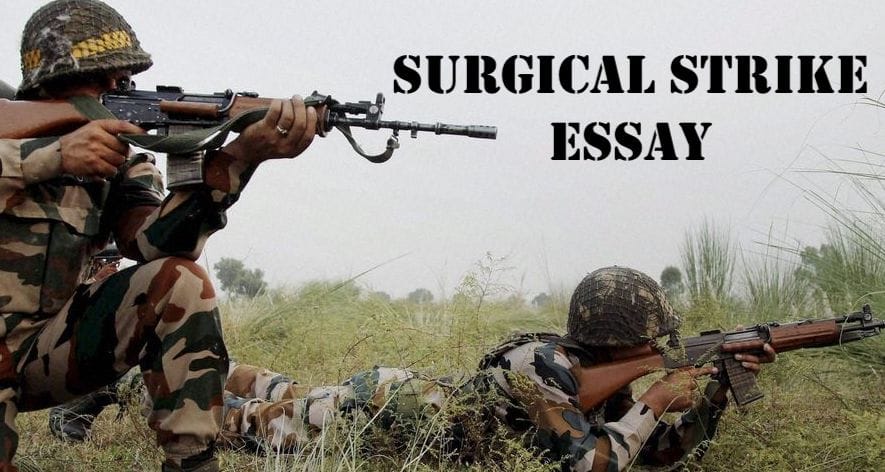 Surgical Strike Essay 300 Words
Today, we are able to live a happy and safe life because of our brave soldiers. They are the one who keeps us away from all the threats and makes our life simple and easier. They sacrifice and risk their own life to protect us from danger. The surgical strike was one of the plans of our army and our government wherein our army men crossed the Indian border to destroy the militant camps and kill the terrorists. It was a much-planned strike that was only executed to finish the militants without causing any harm to the innocent people and property. It was carried out on 28th and 29th of September, 2016 against Pakistan.
Since the year 1947, India and Pakistan are having a cold war and Pakistan is always devising new strategies to attack our nation unnecessarily. On 18th September 2016, four Pakistanis attacked the Indian army in Jammu & Kashmir and Jaish-e-Mohammad Fidayeen group that belonged to Pakistan took the responsibility for the same. India protested and told the Pakistani commissioner regarding the same and in return, Pakistan again attacked India forces. This event and many other events that severely caused great damage to life and property of India led to a surgical strike that was performed to answer all the unjust acts carried out by Pakistan.
The surgical strike was executed at 12:30 am when the Indian commandos entered the LOC in Pakistan via helicopter. The operation was performed in various sectors namely Bhimber, Hotspring, Kel and Lipa. According to the reports, nearly 7 military launch pads, two soldiers and 3 terrorists were killed during the operation. The operation was held with great coordination and attention to details. The Indian commandos and soldiers successfully completed the strike without ant glitches.
Hence, it was all done to showcase that India tolerates no terrorism and it will keep doing such strikes so to make India and other nations free from terrorism.
Know More