Rain Water Harvesting Essay
Read rain water harvesting essay in English for children of class 1, 2, 3, 4, 5, 6, 7, 8, 9, 10, 11 and 12. Know more about essay on rain water harvesting essay in 300 words.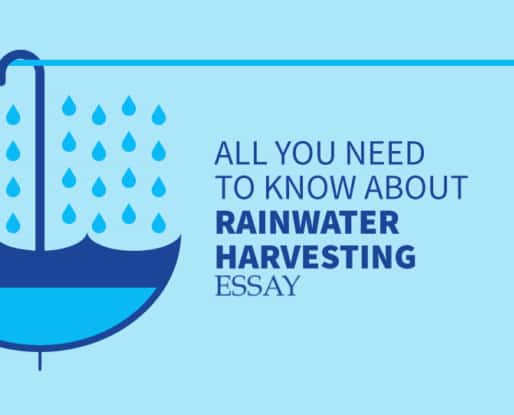 Rain Water Harvesting Essay 300 Words
Rainwater harvesting is the process to save and store rainwater that can be used for various purposes. The idea behind the rainwater harvesting is to prevent the rainwater from running off and storing it in tanks or ponds so that it can be used later. This method is very helpful to combat the water scarcity problems presently prevailing in India. So we must promote this practice to have access to clean water without much cost.
Significance of Rainwater Harvesting implies that it is a very economical and easy practice to follow. Considering the water scarcity across the globe, it is the need of an hour to start doing rainwater harvesting.
As we know, that we do not have much surface water left to meet our ever-increasing demands of water, therefore it is very important to realize the benefits of rainwater harvesting. We can get additional water by preventing rainwater from running off.
Also, groundwater levels are decreasing day by day as more number of people living in flats and houses are using submersible pumps to use the groundwater. There are many other reasons behind groundwater depletion including deforestation, urbanization, high population, and much more.
There are basically two types of rainwater harvesting namely surface runoff harvesting and rooftop harvesting. In a surface runoff method, we make a path from the surface to a storage place like tank or pond. When it rains, a large amount of water on the surface is directed to the pond and is used for various purposes.
In rooftop rainwater harvesting, the roof of a building acts as a collection component for rainwater. The roof is equipped with pipelines that directly open into a tank. The rainwater when falls on the roofs are diverted into the tanks thus preventing the water from falling off. Thus, rainwater harvesting is a very economical method that saves water and also prevents it from logging on the roads.
Know More