Naxalism Essay
Learn how to write Naxalism essay in 300 words. Know more about an essay on Naxalism in English language for students of class 4, 5, 6, 7, 8, 9, 10, 11 and 12 class. Now you can also write Naxalism in India essay in 300 words.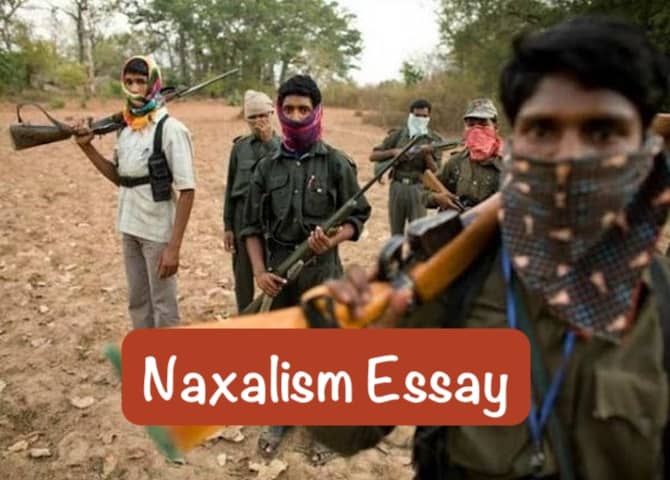 Naxalism Essay
Naxalism originated in the village Naxalbari situated in West Bengal. It was started to initiate a revolt against the native landowners who knocked down a peasant in a matter of land dispute. Naxals support the Maoist community and its ideology. Maoism is a kind of communism established to overthrow and rule the state power with the use of armed rebellion and mass mobilization.
Well, the objective of the Naxalites is to take the land of zamindars into their custody and then share it with the landless peasants and farmers. The Naxalite group is headed by Charu Majumdar, Kanu Sanyal and Jangal Santhal. Naxalites are working in various regions of India from nearly 50 years. Different parts of the country are severely affected due to the open violence of the Naxalite groups. The ex-Prime Minister of India-Manmohan Singh said that Naxalism is one of the most threatening and hostile communism that can jeopardize the internal security of the country.
Naxalites operate to demolish the authority of the state and to establish mass support in order to attain the political influence by using brutal strategies and violent means so as to fulfil what they envision for 'The India People's Democratic Federal Republic'. Naxalites mainly attack various kinds of infrastructures such as roadways, railways and initiate the implementation of developmental work by force. By doing this, they try to challenge the state power and they also get benefit by holding back the developmental work and due to the substandard functioning of various government institutions like health centres, tehsils, police stations and Anganwadi centres.
Even after so many years of independence, many regions of India are still underdeveloped due to various socio-economic issues such as poverty, unemployment, poor health facilities, lack of infrastructure etc. which has also contributed to the rise of Naxalism.
Well, the government should take the necessary steps to eliminate Naxalism from India such as by implementing good governance, providing more employment opportunities, should pay attention to rehabilitation and must do work in the welfare of the tribal people.
Know More