Janmashtami Essay
Read Janmashtami essay for class 1, 2, 3, 4, 5, 6, 7, 8, 9, 10, 11 and 12. Know more about an essay on Janmashtami in English for students in 300 words.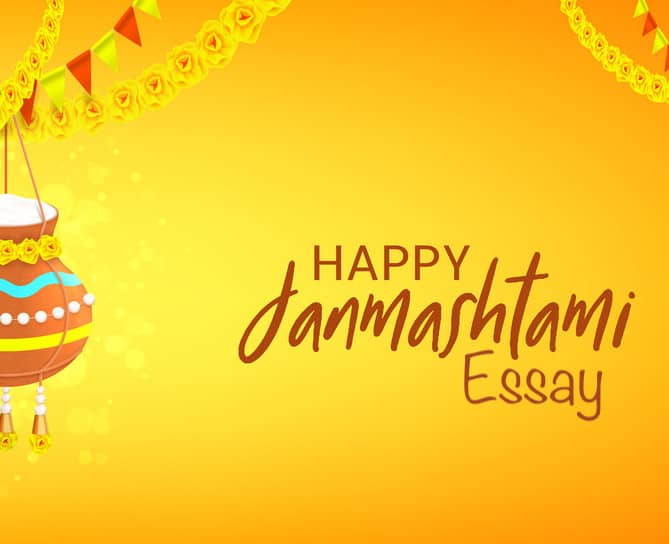 Janmashtami Essay 300 Words
Janamashtmi holds great importance in the Hindu religion as this day marks the birth anniversary of Sri Krishna-one of the most powerful embodiments of Lord Vishnu. This festival is celebrated with great joy and zeal in the month of August that is on the Ashtami of Krishna Paksha. Hindus enjoy this festival and perform various ceremonies to welcome Lord Krishna in their homes.
According to the Hindu calendar, Sri Krishna was born in the month of Bhadon on the eighth day of dark midnight. He was born nearly 5200 years ago on this planet and was considered as one of the most powerful avatars of Lord Vishnu. He took birth for a purpose and that was to save the world from evil souls and deeds. Lord Krishna used to sermonize about good deeds and Karma and he used to say whatever you do on this earth will come back to you in the same way whether it's good or bad. He always preached about the importance of bhakti and prayers in one's life.
Sri Krishna was born in the prison when his mother was clutched by evil soul Kansa whose intention was to kill Krishna when he'll be born. However, Sri Krishna's father Vasudev saved him from the evil Kansa and handed over the baby to his friend Nand. He was then brought up in Gokul and year after year he became strong and was known to possess spiritual powers. He saved many people from various miseries and also killed Kansa.
People celebrate this festival in a unique way, many temples and homes are decorated with swings and "Jhulas" to welcome the arrival of Lord Krishna. They usually chant prayers and perform ceremonies at the midnight as Krishna was born on a dark night. He was very fond of Makhan and people conduct various sports-related to this including matka competition. Hence, it's a great festival of Hindus and people wait for this festival all year long to commemorate the birth of Lord Krishna.
Know More