Myself Essay for College Students And Kids in English
Today we are going to write myself essay for kids. What's different about myself essay that will help you grab good marks in your exam. First of all we will start with how to introduce myself in english essay. You may get essay on myself but still you will write same think. We have also added myself essay for college students as they find difficult in their collage days. Myself essay in english for 1, 2, 3, 4, 5, 6, 7, 8, 9, 10, 11 and 12. Long essay about myself for people who want to increase their confidence.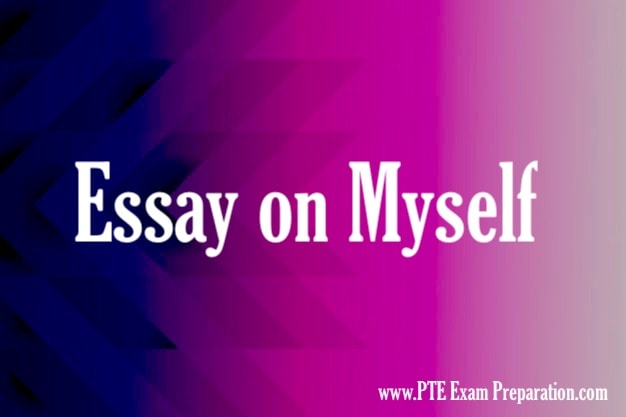 Myself Essay: How to Introduce Yourself?
Hi! I am Tina and you?
Where do you live? What do you do? In which class do you study and so on? There are so many questions you come across when you meet someone. So, it is very important to know the best way to introduce yourself in front of others. It's a part of life at every step. Here we help you understand the right way to say about myself in an impressive way. Just follow the sample.
My name is Palak. I am 12 years old. I live in city beautiful Chandigarh. My school is St. Stephens and I study in class 9. In Chandigarh, I live in sector 47 D with my loving parents and younger brother. My parents are working and my brother is studying in 7th standard in the same school. I am a charming, sweet and naughty child in my family and am the most pampered one. At home, I am called as Shanu and my dear friends call me Palku.
My hobbies are singing, dancing and reading books. I love hanging out with my parents on weekends. My parents love me a lot as I do all my work myself. I daily go to the nearby temple for worship in the morning with my grandparents. I am very punctual and regular in school and my teachers appreciate me for this. I always tried to go neat and tidy.
My favourite movie is Harry Potter. I watched this movie more than 20 times and all parts. In this movie, I love the magical school and all the characters. My favourite festival is the holi because I like colours and water balloons. On holi, I go to my best friend's home Kashish. Both of us put colour on each other and eat tasty food prepared by her mother. Her mother likes me a lot as I always greet her in a kind way and use to share everything with her.
This is the easiest and gentle way to speak or write about myself. Whether you are preparing it for exams or want to share about you to someone, you can use this essay.
To stay updated for more One World One Language PTE Essay Samples, like us on Facebook.