Festivals of India Essay
Read festivals of India essay for children of class 1, 2, 3, 4, 5, 6, 7, 8, 9, 10, 11 and 12. Know more about an essay on festivals of India in 300 words. India is known for its national festivals.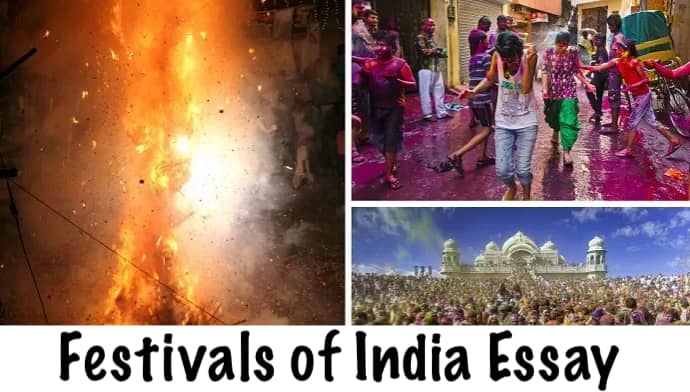 Festivals of India Essay 300 Words
Festivals are a great part of human life as they bring in a lot of happiness and break the monotonous schedule of our lives. Festivals occur every month or two and give us a chance to unite and celebrate different things in life. It promotes communal harmony and strengthens the bond between different kinds of people. Every country has certain festivals related to their culture and religion. However, India is a country that has a diverse culture and thus it celebrates diverse festivals every year. Festivals in India are divided into three different categories namely national, seasonal and religious.
National festivals are celebrated to commemorate certain important national events, personalities and great people. These include Independence Day, Republic Day, children's day, earth day, national environment day, Gandhi Jayanti and much more. Such festivals are celebrated with great patriotism and people of every religion, creed and sex celebrate it with great enthusiasm.
On the other hand, religious festivals are celebrated based on certain beliefs and faiths and are celebrated throughout India such as Diwali, Christmas, Guru Nanak Jayanti, Eid-Ul-Fitr, Holi, Ganesh Chaturthi, Shivratri, Krishan Asthmi and much more. Such festivals are quite colourful and delightful and are celebrated with great pomp and show.
Then comes the seasonal festivals that are celebrated on the basis of different seasons experienced in different states of India. This includes Pongal- a festival of Tamil Nadu, Bihu is celebrated in Assam, Onam is celebrated in Kerala, and Basant Panchmi is celebrated in North India.
In a nutshell, festivals bring a lot of joy and delight in one's lives and bring people closer. People eliminate all feelings of hatred and envy and come together to celebrate festivals. India is rich in cultural heritage, brings a lot of festivals every year and people of diverse communities unite and celebrate such festivals together with great delight and zeal.
Know More