Essay on My Father
Read my father essay in English for kids of class 1, 2, 3, 4, 5, 6, 7, 8, 9, 10, 11 and 12. Know more about short essay on my father in 300 words.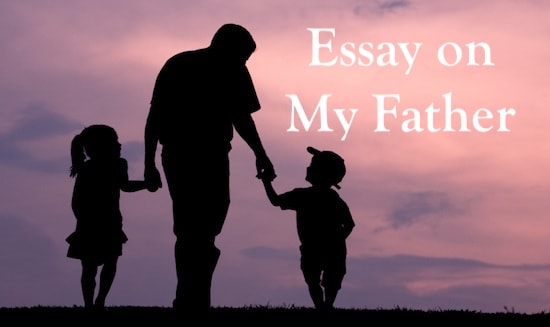 Essay on My Father 300 Words
Father is someone who sacrifices his own happiness and life just to make their kids and family happy. Usually, a father's love goes unnoticed as they are the one who does not show us what they are doing to make our lives better. Both father and mother are a blessing from heaven, so we must acknowledge all the sacrifices they've made to make us happy. My father is my ideal and with no second thoughts I could say, he's the best person of my life.
Everyone believes that their father is different, however, there's one thing in common for sure and that is their love for family. My father is a retired school principal and he is one of the most disciplined men I have seen in my life. He's a person with a great personality as he's always ready to help people in need, he has done many social works to uplift the society and always taught me the same.
He has got a jovial and calm nature, he always tries his best to make us laugh and give us all the happiness in life. He loves my mother and always respects her for what she has done for our family. Well, I always admire him and just think sometimes that he has done so many things for me that I can never thank him enough and would always be in debt of his love. He made the best possible efforts to educate us in the best schools and colleges so that we can become successful in life.
My father has always made us comfortable at home, we can share everything with him without the fear of being scolded. He has got a friendly nature and I can share the best and the worst parts of my life with him, he's always there to listen.
My father always encouraged me to believe in myself and what I am today I owe it to my father. He's a man with great vision and I also want to be like him so that I can earn the same level of respect and love he has earned from everyone in and outside the family.
Know More