My Best Friend Essay in English
Read my best friend essay in English 150 and 300 words. Learn a short essay on my best friend in English for class 1, 2, 3, 4, 5, 6, 7, 8, 9, 10, 11 and 12. Do read this essay but you can add your friends' name and his/her father or mother name.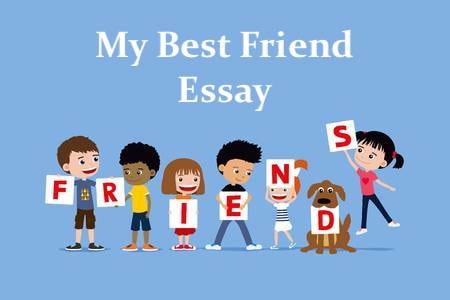 My Best Friend Essay in English
It is well said that "best friend is hard to find because the very best is already mine". Best friend or an ideal friend possesses all the qualities that take care of you in all goods and bads of life. It is easy to let go of people easily, but very difficult to make them stay.
People say that the person who has similar qualities as of you becomes your best friend. But, when it comes to my best friend Neha Khanna, it is completely the opposite. We both are different personalities. If one says north, the other says south. And yes, it does happen.
Since childhood, we are together and today it's been more than 10 years of our friendship. If I compare her to the last ten years, she is the same, shy, conserved, less talkative, cute, chubby, bit naughty and lovable. All these qualities of her are limited to others. But, when she is with me, she is high on everything. She is more loud, very talkative, very naughty and lovable not at all. Still, I love her. She is beautiful by heart, and this is what helps us maintain our bond.
We do have fights, we do get angry over each other and we do don't talk for days, but there's nothing that changes within us. As whenever we talk, we talk like bitches again. If I have to say more about her, then, she is crazy about food. She is born foodie and we both go mad over street food. She lives near to my home, where it hardly takes 10 minutes to reach each other's place. She looks after me and I trust her completely. I share all my stuff with her, whether it is good or bad.
There is a lot to say, as we are together since long. But, giving it an end, I would like to say that she is a darling and means everything to me. She can't be replaced by anyone in my life.
Know More