Indian Freedom Struggle Essay
Read Indian freedom struggle essay for class 1, 2, 3, 4, 5, 6, 7, 8, 9, 10, 11 and 12. Know more about an essay on Indian freedom struggle in English for students in 300 words. Write short essay on Indian freedom struggle for kids.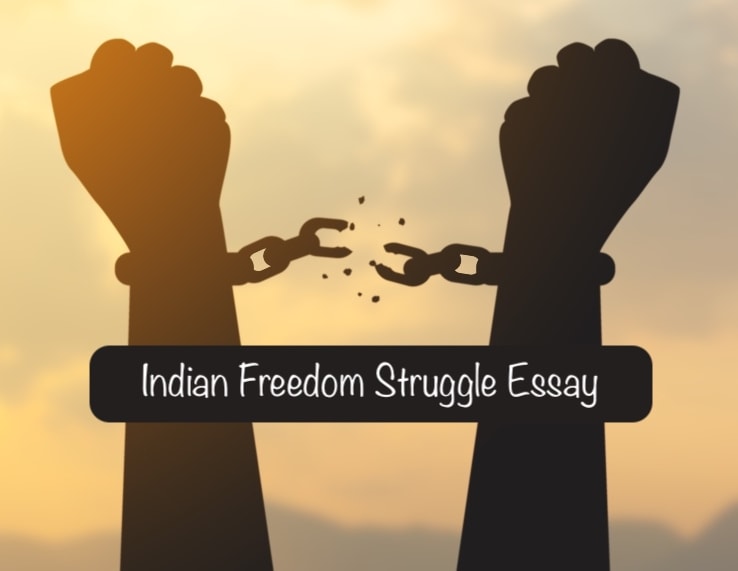 Indian Freedom Struggle Essay 300 Words
Indian freedom struggle is one of the most significant progress in the history of India. It is essential for the new generation to know certain lessons from the freedom struggle of India to get an insight into the movements and events that led to independence.
The British people entered India in the year 1600 with the objective to trade certain items like silk, tea and cotton and slowly started ruling the country. They gradually started to create chaos in India and made Indian people as their slaves. Therefore, India went through some of the hardest times to gain independence from the British rule and the first movement against the British was initiated in the year 1857 by Mangal Pandey who was an Indian soldier.
There are were various other movements that helped India to get independence some of which were civil disobedience movement-this movement was started against the British Monopoly on salt due which Indians cannot trade or manufacture it and have to buy salt from British people by paying huge sums of money.
Quit India Movement was another hope for India to gain independence. This movement was instigated by Mahatma Gandhi and Indian National Congress on August 8, 1942, during the 2nd world war. This movement was started to end the British rule in India, however, it proved to unsuccessful but the Britishers realized that their power is declining gradually in India.
Also, in the year 1943, the Indian National Army was formed to impel British out of India. Soon the Britishers settled on an agreement and decided to move out of India which consequently took effect on 15th August 1947 and India gained Independence. Our various soldiers and freedom fighters sacrificed their lives and were sentenced to death in order to make India free from British rule.
India has a vast history of freedom struggle and there were various events including Simon commission, Rowlatt act, Jallianwala Bagh Massacre and many more movements that helped India to acquire independence.
Know More