Essay on Freedom Fighters
Read an essay on freedom fighters in English for students of class 1, 2, 3, 4, 5, 6, 7, 8, 9, 10, 11 and 12. Learn good manners essay in English 300 words.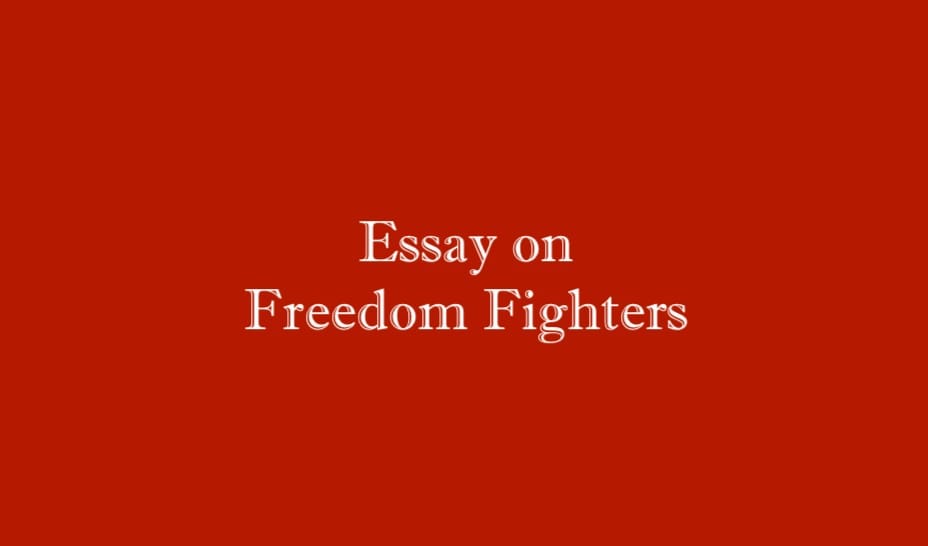 Essay on Freedom Fighters 300 Words
Freedom fighters were those brave and audacious people who devoted their lives to achieve freedom for their country from the British rule. They made endless sacrifices so that we can live freely in our country and live a life of happiness. Britishers used to do many unjust acts of exploitation on Indians, so these freedom fighters were the people who have the courage to withstand these British people and fight with them to attain independence for their country. They went through a lot of pain and suffering to make India a free and independent country.
People always commemorate them for their patriotism and love for their country. We and our coming generations can never thank them enough for their sacrifices and hard work. Freedom fighters are the people because of which we are able to celebrate Independence Day.
Many freedom fighters went for war to protect people from the cruelty of Britishers. Even if they had no training in fighting, they still fought so as to safeguard people and make their country free from injustice and exploitation. Many of them were assassinated during the war and thus we can realize how bravely they went through every situation and made us a free citizen.
Many freedom fighters motivated other people to fight for their freedom, they led many freedom movements and enlightened people about their fundamental rights and power. So they are the reason behind our sovereignty and liberty. There is an endless list of freedom fighters some of which are known while others are unknown who quietly sacrificed their lives to protect their motherland.
Mahatma Gandhi, Bhagat Singh, Udham Sigh, Rajguru, Subhash Chandra Bose, Chander Shekhar, Sukhdev are some of the famous freedom fighters who consecrated their whole lives fighting for their country.
However, we can see communal hatred rising day by day which is quite shameful as people are making the sacrifices of these freedom fighters useless. So we must not stand against each other and should always try to live in peace so that we can help make our nation successful and prospering.
Know More