Dussehra Essay
Read dussehra essay in English for students of class 1, 2, 3, 4, 5, 6, 7, 8, 9, 10, 11 and 12. Learn an essay on dussehra in English 300 words.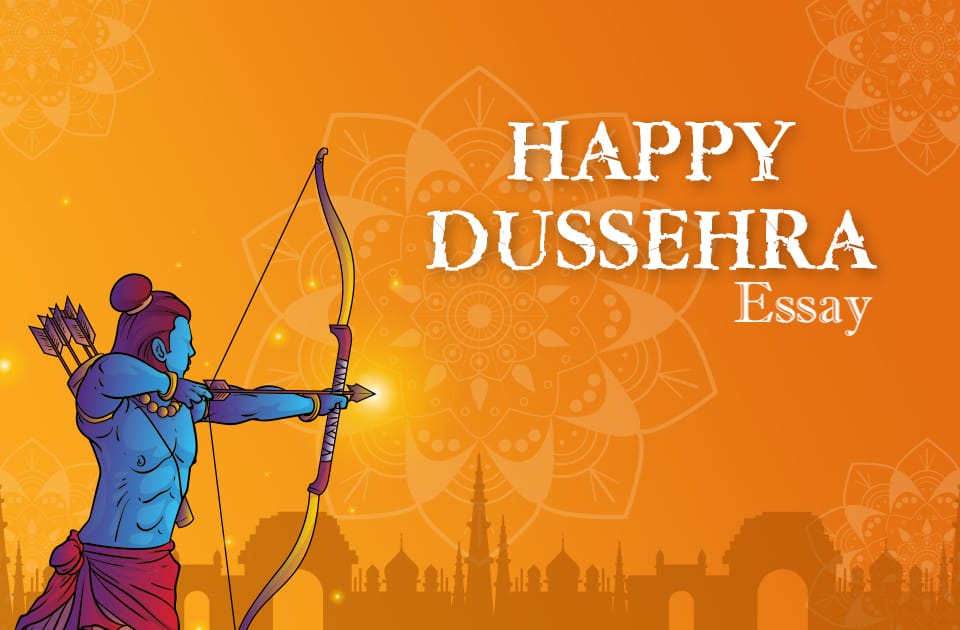 Dussehra Essay 300 Words
Dussehra is a sacred festival of Hindus also known as Dashahara, Vijayadashami, or Dasara. This festival falls 20 days prior to the Diwali festival usually in the month of September or October. This festival connotes the triumph of good over evil and right over wrong. Dussehra is celebrated with much enthusiasm and zeal. People start preparations many days before the festival and await eagerly for this festival all year long.
This 10 days long festival showcases the battle between Lord Rama and Demon Ravana. Many people do dramatic acts depicting the story of this battle staged at various places in the city. This dramatic performance done by people is known as Ram-Leela. Many theatre actors dress up like Lord Rama, Goddess Sita, Ravana, Laxman and other characters and perform on the stage in front of the city people. People and children are quite excited about this drama every year and there are many stalls of toys, food, etc enacted near the grounds where the stages are set up.
The effigies of Ravana, Kumbhkarana, and Meghnath are built and filled with explosives and crackers to be burnt at the 10th day of Dussehra.
Lord Rama at the end of the day, burns these effigies with the fiery arrows and this marks the end of this battle. Many carnivals and fairs are held on the day of Dussehra. People wear new clothes and celebrate this festival with their loved ones and enjoy all day long on the day of Dussehra. This festival is also celebrated to commemorate the victory of Goddess Durga over demon Mahisasura.
Well, Dussehra brings a lot of excitement among children and students as they enjoy their holidays during the fest and they also spend quality time with their parents and friends. This festival teaches us the importance of being good and honest in our deeds no matter what.
Dussehra Essay
Dussehra is considered as one of the most sacred and significant festivals in the Hindu religion. Celebrated all across the country with various names and ways, it signifies the power of truth over evil. Every year it is celebrated in the month of September or October just twenty days before Diwali. This festival indicated the victory of Lord Rama when he conquered demon Ravana and was successful in releasing goddess Sita from his imprisonment. Goddess Durga and Lord Rama both are worshipped on this auspicious occasion of Dussehra.
Dussehra is a ten days festival where nine days are considered as navratas that marks the presence of all nine facets of Goddess Durga. On the tenth day of Navratri festival, Vijayadashami is celebrated that is known as Dussehra. It is also assumed that on the last day of Navratri festival, Goddess Durga killed demon Mahishasura, therefore, people started worshipping Goddess Durga together with Sri Rama on the day of Dussehra. Hence, it is celebrated with great enthusiasm and joy.
Many fairs and carnivals are organized at different places in the city a few days before Dussehra festival. Also, Ramleela- a theatre performance based on the life story of Rama is also set up at different temples and grounds for a period of nine days before Dussehra.
People enjoy this festival a lot and especially children as they play games, eat delicious food, take rides in the carnivals organized. On the day of Dussehra, the effigies of Ravana are burnt along with Kumbhkaran and Meghnath. This marks the end of celebrations giving us a message of the victory of truth over evil.
Dussehra is a delightful festival of India celebrated with full enthusiasm, respect, faith and love. Well, the things we learn from the real-life of God must be implemented in our daily lives and we should know the importance of truth over sin.
Know More