Essay on Birthday Party
Learn how to write an essay on birthday party in English language in 300 words. Know more about birthday party essay for students of class 4, 5, 6, 7, 8, 9, 10, 11 and 12. Now you can also write my birthday party essay for kids in 300 words.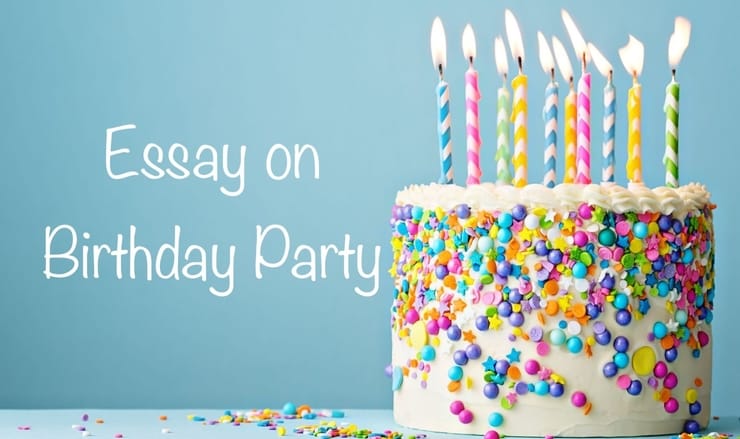 Essay on Birthday Party
Birthdays are exciting when you celebrate them with much zeal and enthusiasm. Everyone enjoys his or her birthday as it is the day when everyone makes you feel special and important. Especially children feel overwhelmed on their birthday as their parents pamper them with a lot of gifts and surprises. Even I am one of them who is always excited about my birthday as it only comes once in a year.
I celebrate every birthday with my parents and friends as we used to organize a small party in a restaurant and sometimes in a house to save those bucks but yes my parents do everything for me to make me happy on my birthday. Well, on every birthday my father used to bring a surprise gift for me and my mother used to cook my favourite delicacies and desserts to make my day delightful and happening.
However, my last birthday was something different this time as me and my parents decided to do something which could be helpful to others so this time I woke up as usual on my birthday and we all three went to the temple to take the blessings from God and then we came back home, prepared some food and bought some books and toys to be distributed to the unprivileged children in our town.
My mother prepared delicious food for them and my father bought clothes and toys. I distributed all the items among those children and they happily accepted them. I was so delighted to see smiles on their faces when they received the toys and the clothes. I got so many blessings on that day which made me realize the true meaning of life and I thanked my parents and God who gave me this beautiful life. It was the best birthday of my life and I enjoyed that day to my fullest.
Know More