Summer Vacation Essay
Read summer vacation essay for Kids in 100, 150 and 300 words. How I spent my summer vacation essay 1, 2, 3, 4, 5, 6, 7, 8, 9, 10, 11 and 12. Essay on summer vacation is important for all class and examination.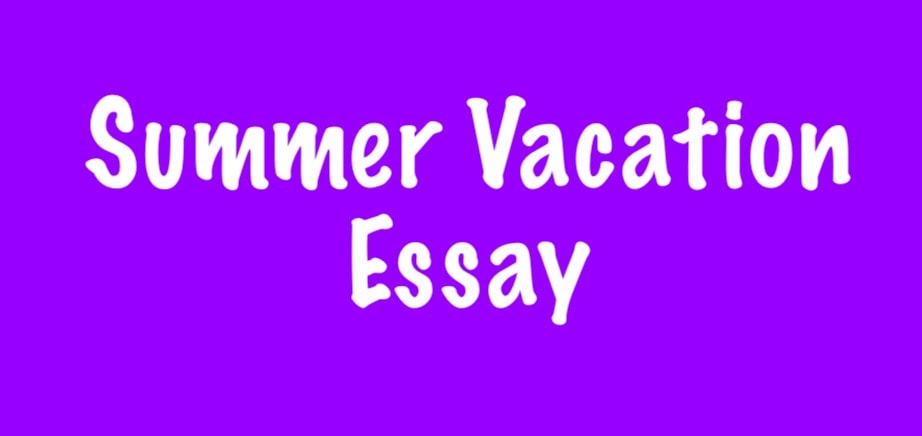 Summer Vacation Essay 300 Words
The most awaited time of the year is the summer vacation. Students and even parents eagerly wait for the summer holidays so that they can spend fun and quality time with each other. Although summer months are quite hot, students love this time as they get a break from their monotonous routine of college and school. They get time to relax and enjoy without worrying about studies and work.
Summer vacation is the most exciting part of the year as we get to explore and learn new things apart from those boring studies. We can join some classes of our interest like singing, dancing or painting. So we get a chance to polish our hobbies which otherwise go unnoticed.
Not only this, but we can also travel anywhere in the world just to relax, enjoy, and explore new places. This rejuvenates our mind and body and gives us a level of satisfaction. So there are numerous ways to enjoy your summer vacation-it can be going to your grandparent's house, joining a summer camp, or travelling somewhere to enjoy to the fullest.
Last time, we planned to visit Mussoorie during summer holidays. Situated in the midst of paramount hills of Uttarakhand –Mussoorie is worth visiting. I have explored many hill stations in India but Mussoorie is one of my favourite. I have heard somewhere that Mussoorie is considered as the "Queen of hills" and this seems to be actually true when I reached this beautiful hill station.
We booked a JW Marriot hotel for our stay and what a place it was! It was a kind of heaven on earth. The view, the food, and everything was so elite and classy. After reaching our hotel, we got ready and went to the main Gandhi market. The market is so happening and you can find live music bars and restaurants over there. The aura was so blissful and those roadside hot masala Maggie, egg omelettes, sweetened hot milk in the chilling air were so enjoyable.
You can even enjoy adventurous sports activities like river crossing, bungee jumping, water rafting and many more. We even went to Kempty falls and enjoyed the view. It was complete fun and entertaining. On the way to Kempty falls, there's a market- we did a lot of shopping there.
Other attractions include Benog Wildlife Sanctuary, Tibetan school and a Buddha Temple, and Mussoorie Adventure Park. So these were some of the places that are worth visiting. So basically it was the best trip of my life. It re-energized me and gave me a chance to enjoy and relax myself in the beauty of nature.
Know More