Essay on Health
Read an essay on health for class 1, 2, 3, 4, 5, 6, 7, 8, 9, 10, 11 and 12. Know more about health essay in English for students in 300 words. Write a short essay on health for students.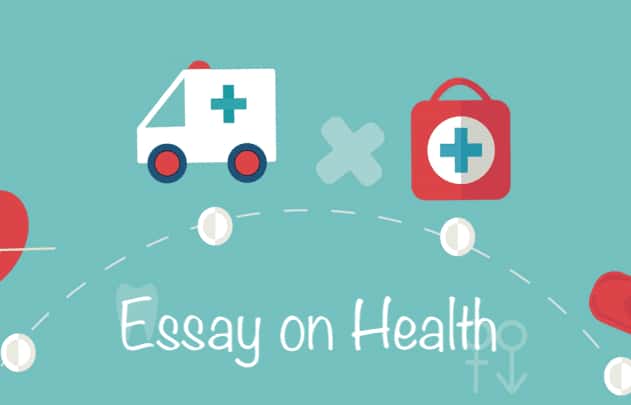 Essay on Health 300 Words
WHO defines health as the state of complete well-being in terms of physical, mental and social health, it does not just mean the absence of illness in your body but it also suggests that your body should function properly in every state of life. Health specifically refers to the condition of an individual's body, mind and spirit which means it is free from any disease or pain.
Health plays a significant role in one's life and promotes good well-being of a person. A healthy person is able to face the challenges of life and has the ability to withstand any kind of situation with courage and power.
Good health and fitness are essential for people if they want to live a peaceful and happy life. If you possess good mental and physical health, you can prevent yourself from many diseases like heart attack, obesity, diabetes, high cholesterol and BP levels and depression.
It's not only physical health, but mental health also plays an important role in keeping us healthy and fit. Nowadays, many people suffer from depression and anxiety issues due to their unhealthy and busy lifestyle which ultimately makes them an unworthy person. So it is crucial for them to adopt a lifestyle and schedule that makes them healthy and does not deteriorate their quality of life.
There are numerous ways with which we can remain healthy and lead a blissful life. The foremost thing that you must include in your daily schedule is physical exercise and meditation. This certainly brings positive changes in life and makes you mentally and physically fit. Good food that is full of nutrients also makes us healthy and strong. One must eat food rich in proteins, fibre and vitamins. Sleeping an adequate amount of time also keeps you healthy and activated.
Hence, all these activities can contribute to making your life healthy and successful. Parents should start educating their children about good health and hygiene right from their childhood and should encourage them to include physical and mental exercises in their life to stay fit and fine.
Know More
Too Much Time At Work Affects Personal Life