Essay on Diwali in English for Kids & Students
The one festival that is celebrated in the entire country is Diwali and we can't miss a short essay on Diwali in English for students of 1, 2, 3, 4, 5, 6, 7, 8, 9, 10, 11 and 12 class. Kids need a little hint to write an essay on the festival of India. India's most celebrated festivals are Diwali, Holi, Dussehra and more. Diwali essay is most commonly asked question to students.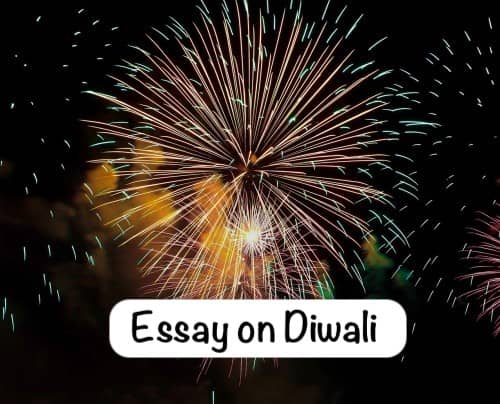 Essay on Diwali in English – Festival of lights
In India, Diwali is one of the biggest festivals. Being called as a land of festivals, Diwali is the one that is celebrated by every individual irrespective of religion, caste, and race. It is also known as the festival of lights.
The festival has a long history back. Diwali is celebrated for two reasons, one belongs to Hindu society and the other belongs to Sikhism. On this day, God Rama with his wife Sita and brother Lakshman returned to Ayodhya after 14 years of exile after defeating Ravana. In the happiness of his return, people lit oil lamps and distributed sweets to each other. For Sikhs, it celebrates the release of their sixth guru, Guru Hargobind Singh in 1619 and other 52 princes.
Diwali is celebrated after 21 days of Vijayadashami as it is believed that God Rama came after 21 days to Ayodhya. Every Indian wait for this festival as it approaches at the end of every year. On this day people wear new clothes, enlightens their homes with divas, distribute sweets and gifts to their relatives and burn crackers. The houses, markets, offices and temples, every place are illuminated with different lights. In the evening, everyone prays to Goddess Lakshmi and ask for her blessings.
Every year, the marketplace is always full of new clothes, gifts and more, to attract people as people look for unique gift items. In offices, employers give bonus, sweets, and gifts to their employees and celebrate this day with the highest zeal. Diwali preparations start before a month because of the excitement everyone holds. People perform all the rituals gleefully associated with it.
To share happiness with others, some people visit orphanages and old age homes and distribute gifts there.
Do not forget to share this essay with your friends.