Essay on Holi in English
Know more about holi festival in English language for class 1, 2, 3, 4, 5, 6, 7, 8, 9, 10, 11 and 12. Read about holi essay in English in 300 words. Holi festival is celebrated on 10th of March every year. It is one of the most celebrated festival in India.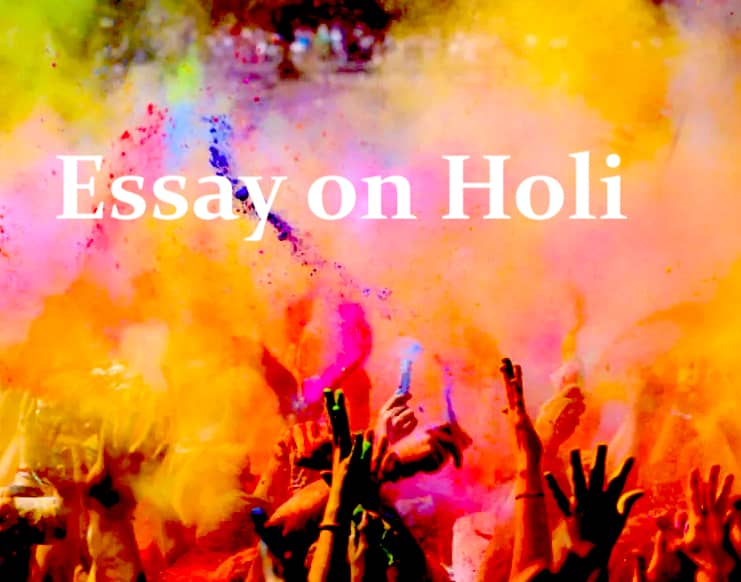 Essay on Holi Festival
Holi is one of the most amazing festivals in India. It is known as the festival of colors. Every year, this festival is celebrated with joy and happiness. This is an important festival for Hindus that falls in the start of the spring season in March which is also known as Falgun. Kids especially wait for this festival with lots of enthusiasm and make preparations a week ago.
Behind the celebration of Holi, there lies a great story, the story of Prahlad. He is a great devotee of God and his father was against his worship. His father wanted Prahlad to worship him instead of God. Prahlad denied and was tried to kill by his father many times. His aunt, Holika sat on fire keeping him in her lap as she was boned to never get harmed by fire. God saved Prahlad and Holika was burnt because Prahlad was a true devotee. Since that day, people started celebrating Holi every year to remember the triumph of good over evil as is known as Holika Dahan.
Every year, a day before Holi, people burn heaps of wood in the evening to remember the sacrifice of Holika. It is said that burning the Holika will remove all the evils from everyone and bring happiness and positivity to the home. On the day of Holi, people play with colors with their family, relatives, friends, and neighbors. Children play using pichkari, throwing colored water balloons and much more. Adults hug each other and apply gulal to faces showing their love and affection towards each other. Many sorts of food are prepared on this day to make it a special occasion. Holi is a festival that brings happiness and spread love and harmony among people.
Know More