Durga Puja Essay
Read Durga Puja essay in English for students of class 1, 2, 3, 4, 5, 6, 7, 8, 9, 10, 11 and 12. Know more about short essay on Durga Puja in 300 words.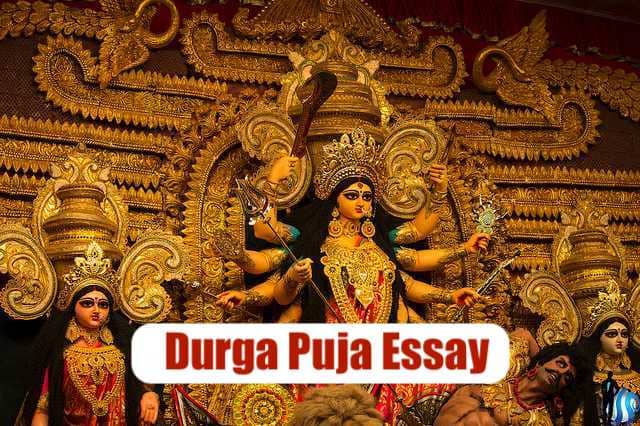 Durga Puja Essay 300 Words
Durga Pooja is a sacred festival of Hindus that is celebrated to commemorate the victory of Goddess Durga over Demon Mahisasura. Maa Durga is the epitome of "Shakti" or "power" and thus represents female power over evil deeds. This festival suggests the supremacy of good over bad. Durga Pooja is celebrated with great zeal and enthusiasm. People all across India celebrate this festival with different culture and traditions.
This is a ten days long festival wherein people are observed fasting and making prayers in front of Maa Durga. The last four days of this long festival named as Saptami, Ashtami, Navami, and Vijaya-Dashami mark the most happening and enjoyable days in which people do fasting and prepare various delicacies and offer prayers to the statue of Goddess Durga. This festival is largely celebrated in Bengal with great pomp and show.
It is believed that Goddess Durga is the daughter of Himalaya and she turned into Sati to marry Lord Shiva. This festival of Durga Pooja started when Lord Rama asked Durga to grant powers to him in order to kill demon Ravana.
In Bengal, various carnivals and fairs are held during Durga Pooja. Many pandals are set up on the streets to celebrate this festival with much spark and delight. Also at the end of the festival, many people immerse the statue of Goddess Durga in the holy river Ganga.
So to honour the victory of Goddess Durga over the evil demon, we celebrate this festival. The three lords namely Shiva, Brahma, and Vishnu called Maa Durga to kill the demon and save the world from his evil deeds. Therefore, on the tenth day, this victory is celebrated in the form of Dussehra.
So people in India irrespective of their caste and religion celebrate this festival with much delight. This festival also brings together family members and they get quality time to spend with each other. So we must understand the message given by this festival which suggests that good always wins over bad and so we must follow the right path to become a better person in life.