A Stitch in Time Saves Nine Essay
Learn how to write a stitch in time saves nine essay English language in 300 words. Know more about short essay on a stitch in time saves nine for students of class 4, 5, 6, 7, 8, 9, 10, 11 and 12. Now you can also write a stitch in time saves nine essay for kids in 300 words.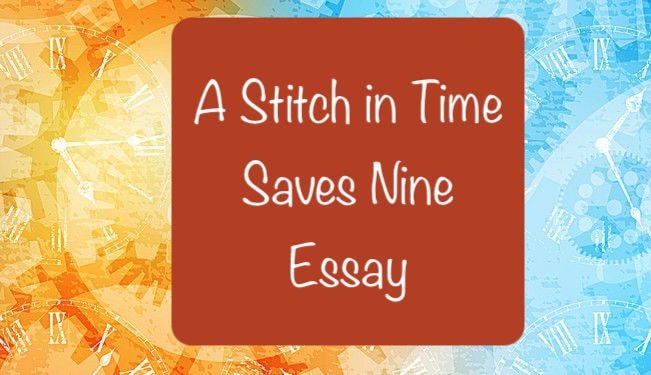 A Stitch in Time Saves Nine Essay
"A Stitch in Time Saves Nine" is a great phrase that depicts a hole in a cloth and that hole will surely get larger if not stitched on time. This suggests that it is important to fix anything on time before things get worse. If we do not mend or change things, we need to do more hard work later to make them right. This proves the fact that prevention is better than cure and this certainly suggests that one should not delay things and must do every task on time.
Time is a very important aspect of life and it must be utilized in the right way to get success in life. Time is like money and a blessing from god. Every individual gets an equal amount of time to perform his daily tasks and the one who makes the best use of those 24 hours emerges as a responsible and triumphant individual and on the other hand, one who wastes his time on insignificant things faces failure in life. Therefore it is important to realize the significance of time and use it wisely to make things right. Hence the statement "A Stitch in Time Saves Nine" holds true when it comes to saving time.
This statement also states that we need to put less effort when we deal with a problem at an early stage. If we keep on delaying the problem it can transform into a bigger one and can make it difficult for us to solve it later on.
Ultimately we have to put more effort to resolve it which results in wastage of resources as well as time. Also, a person who procrastinates the problems lacks in better decision making as he is left with less time to make the right decisions and therefore loses track of things. Hence, we can say that "A Stitch in Time Saves Nine" must be considered as a code of conduct and should be followed to succeed in life.
Know More
All That Glitters Is Not Gold Essay
Should Government Spend Money on Art