PTE Read Aloud Tips And Tricks
 PTE Read Aloud Tips And Tricks – In this article, first of all, we look out what this particular question type is about. Go through all the basics that you need to keep in mind. As well as we are gonna see what are the things that you need to take care to score well. For this particular question type below are PTE Read Aloud Tips And Tricks.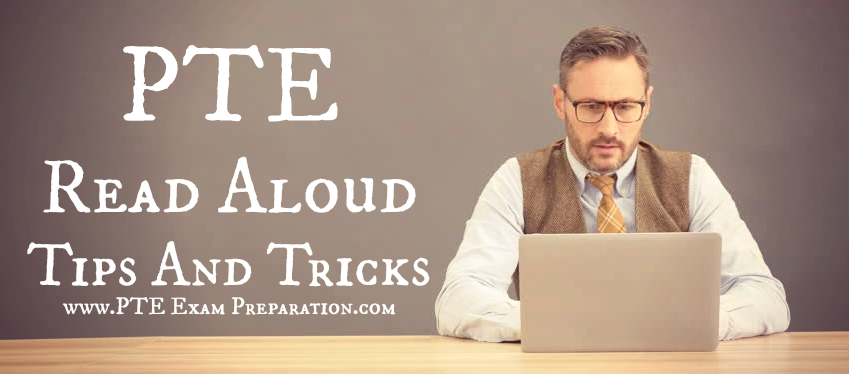 Things to Remember – PTE Read Aloud Tips And Tricks
You will have six to seven questions of this type in the exam. On the screen you will see a sentence and then you have to read that sentence aloud into the microphone. There will be time mode depending upon the length of the sentence. You will get 30-40 seconds before which the microphone will open up and then you will have to give your response. So use these thirty to fourty seconds to
To understand the sentence,
To quickly go through the sentence,
Where you gonna pause,
Have a look at what words you need to put emphasis on,
Where you are going to raise your voice,
Where you are going to lower your voice
And if you see any words that are unfamiliar to you, then try to speak that word in your mind. So that you speak easily once the microphone opens up.
Use that 30-40 seconds that you have before the microphone opens up very wisely that is very important.
________________________________________________________________________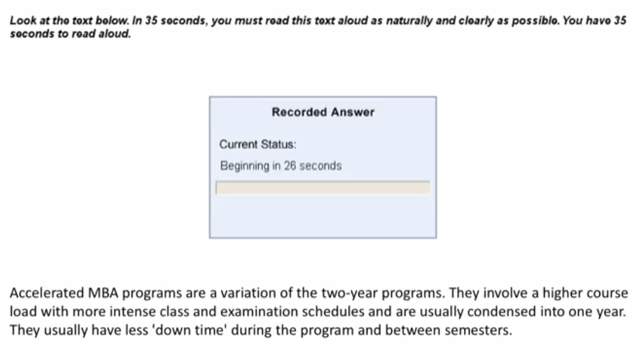 ________________________________________________________________________
So this how the screen will look alike. In your recording session, you will see a status bar which tells you how much time is left before which the audio will start playing. Then as soon as the time ends, you will hear a tone. That's when you will have to start speaking or start giving your response. While giving your response also keep an eye on the progress bar which tells you how much time is left or how much seconds is left. Try to complete your response within the time limit because that's what you will be scored upon.
The very first thing that you will be score upon is the content. Content means everything that is said in the sentence. So have you been able to read the whole sentence, have you been able to read aloud the whole sentence? If you do that then you get full marks for the content and after that, they will test you for other things like your pronunciation, your fluency, why you are able to identify, which part of the sentence was important, so exercise that by your voice. So all those things will matter after that.
This is the test of your Reading skills and Speaking skills, so you will get marks for both of those things from this question type. So that's very important.
PTE Read Aloud Tips And Tricks or What are the things that you will have to keep in mind to score well?
1. Correct Pronunciation – First of all your pronunciation should be good. You should be able to pronounce that words correctly. "If there is any word that is difficult or which is sought of unfamiliar to you", try first. Then in the first thirty – fourty seconds try to practice how you are gonna pronounce it. So that is very important.
2. Pause at the right places in the sentence – So whenever you see a "Comma" or whenever you see "Full-stop" that means "that's where you have to pause". Some people run through the sentence which is not the correct way because you don't just have to read it out. You had to read it in a way that the other person understands which part is important or what was the intention of the person who is speaking. So this is very important. You can easily convey that by pausing at the right places by emphasizing the words that are more important.
3. Raise and lower your voice at the correct places – So whenever you are finishing your point or sentence that means at that point of time you can lower your voice. So coming to a comma or coming to a full stop you can lower your voice. When you have to compare certain things so for each of those things you can raise your voice a bit.
So we will see this a lot in the PTE Read Aloud Practice questions and when we will do the practice you see how we put all this into practice. Before beginning this practice you already know Read Aloud Tips. So a lot of more much in detail is discussed there. So keep all that in mind.
4. Pace – We would like to emphasize the pace, so if you speak too fast or rush through the sentence or if you speak too much slowly, pausing at each word or after every two words then that gives you an impression that you are not fluent. You have to come across fluent. So to do so is to divide the sentence into smaller parts or charts. This is what you have to practice every day. As you can get more practice you can increase the size of the chart.
So that's how you can figure out at what pace your voice comes out at its best. Experiment a bit with it, so take some sentences and record them. Speak some of them very slowly and speak some of them at a faster pace. Then let someone from your family or friends hear it and tells them that which one sounds more fluent. It will help you to understand how your voice comes out the best.
We would like to emphasis on if you really not done so please go and like our Facebook Page, here you can find practice exercises and materials to improve your English skills every day.
General PTE Read Aloud Tips And Tricks
We tell a lot of students that in the morning while going to work or in the evening or during lunch break, practice simultaneously. You can just take a small passage or you can listen to a small audio. But what happens is that there are a lot of people and just unable to get into that routine and so do not put the same into practice.
Aspirants waste their time by logging into social media sites because they are into the habit. In-spite of wasting your unnecessary time on the internet, like our Facebook page for PTE Material. Instead to go out and to get these audios, news articles to read out or tips like PTE Read Aloud Tips And Tricks. We bring them all on our facebook page so that you can do your daily practice their. It won't help you for this particular exam but is also a skill for the lifetime. Even after you clear your PTE academic exam if you have to continue improving.
To stay updated with more PTE Read Aloud Tips And Tricks, like us on Facebook.