PTE Academic Reading Multiple Choice Multiple Answers – Practice Test 8
PTE Reading Multiple-choice, Choose Multiple Answer – Read the passage and answer by selecting all the correct responses. More than one response is correct. Here is PTE Academic Reading Multiple Choice Multiple Answers – Practice Test 8.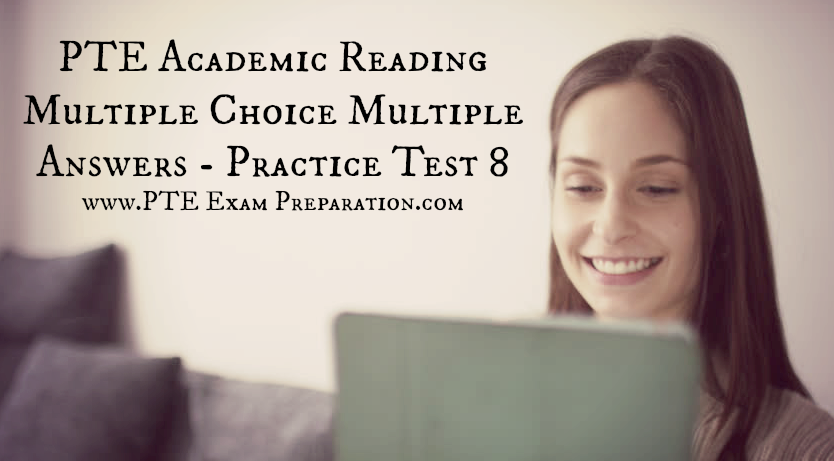 PTE Academic Reading Multiple Choice Multiple Answers – Practice Test 8
11. Read the passage and answer the following question.
One of the first land offensives in Oceania was the Occupation of German Samoa in August 1914 by New Zealand forces. The campaign to take Samoa ended without bloodshed after over 1,000 New Zealanders landed on the German colony. Australian forces attacked German New Guinea in September 1914. A company of Australians and a British warship besieged the Germans and their colonial subjects, ending with a German surrender.
The attack on Pearl Harbor by the Japanese Imperial General Headquarters, was a surprise military strike conducted by the Imperial Japanese Navy against the United States naval base at Pearl Harbor, Hawaii, on the morning of 7 December 1941. The attack led to the United States' entry into World War II. The Japanese subsequently invaded New Guinea, the Solomon Islands and other Pacific islands. The Japanese were turned back at the Battle of the Coral Sea and the Kokoda Track campaign before they were finally defeated in 1945. Some of the most prominent Oceanic battlegrounds were the Battle of Bita Paka, Solomon Islands campaign, the Air raids on Darwin, the Kokada Track, and the Borneo campaign.
Australia and New Zealand became dominions in the 20th century, adopting the Statute of Westminster Act in 1942 and 1947 respectively. In 1946, Polynesians were granted French citizenship and the islands' status was changed to an overseas territory; the islands' name was changed in 1957 to Polynésie Française (French Polynesia). Hawaii became a U.S. state in 1959. Fiji and Tonga became independent in 1970. On 1 May 1979, in recognition of the evolving political status of the Marshall Islands, the United States recognized the constitution of the Marshall Islands and the establishment of the Government of the Republic of the Marshall Islands.
Question – According to the text, which of the following statements are true about the history of Oceania?
Options – 
1. The Japanese captured significant parts of Oceania and were never defeated.
2. Oceania has witnessed military intervention from several countries over the last 100 years.
3. New Zealand and Australia worked closely to defeat Germans in Oceania.
4. Darwin was one of the centres that witnessed aerial conflict.
5. Occupation of German Samoa by New Zealand triggered a long series of conflicts in Oceania.
For Answers Click Here
To stay updated, like us on Facebook.