Formal Written Examination is an Effective Way to Assess Students
PTE Academic sample essay assessment through written formal examination still valid
or
Without a doubt written formal examination is used widely as assessment criteria in most of the educational institutes for decades. The most question as to whether the formal written assessment is still valid?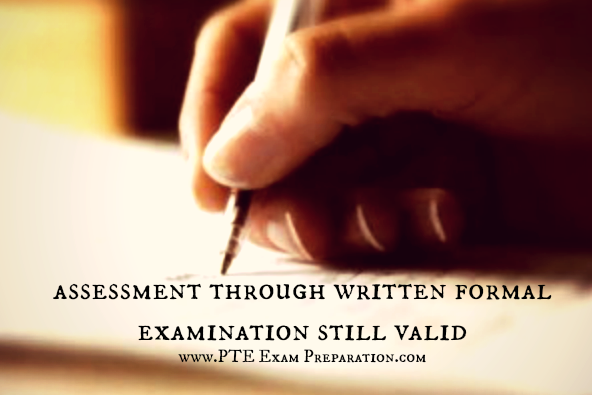 Is Assessment Through Written Formal Examination Still Valid
Twenty years ago, only written assessment is mandatory to evaluate the student performance. But now with the introduction of sports and extracurricular activities, we can evaluate child's performance in other ways. There is a lot of transformation in the education system for the betterment of students. To evaluate student's performance, written exam was an essential part of the education system. Is written assessment is correct or not? Write your views.
There are many projects and assignments submitted by the students in their session period. Many parents help their children for the completion of assignments. Along with this, the project gets copied from the internet or other sources in order to complete the assignment, so this is not a reliable method to judge the student capabilities. This shows how much-written assessment is necessary because there is no involvement of child's parent in that. Moreover written exams are to be conducted in the presence of invigilator which restricts students to take any help from an external source or from other students also. So it can be said that this can be considered as a more reliable method of testing one's ability.
The written assessment gives the opportunity to students to express their mental strength and development. Students give their hundred percent at the end of written exams but in absence of them, the student pays less attention.
To conclude, advantages of formal testing outweighs the advantages of testing by assignments or projects. I believe this written assessment method should be implied across the globe and many countries will adopt this method because of its effectiveness.