Too Much Time At Work Affects Personal Life – PTE – IELTS
Nowadays, people spend too much time at work to the extent that they hardly have time for their personal life. Discuss
or
Too Much Time At Work Affects Personal Life – PTE – IELTS Essay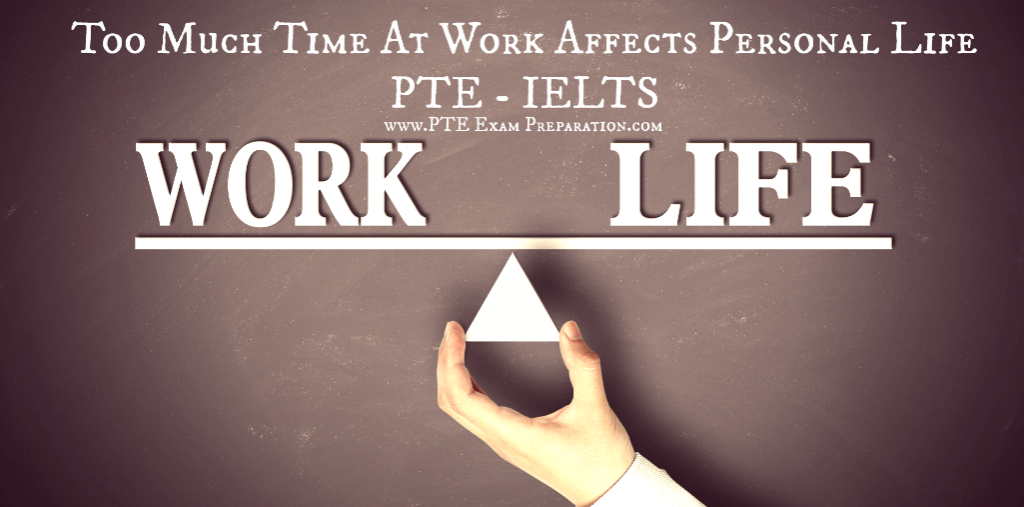 Too Much Time At Work Affects Personal Life – PTE – IELTS
Nowadays people spend too much time at work. They do not have time for their personal life, consequently, their personal life is affecting negatively. Long working hours not only affect one's personal life but it also affects one's health physically and psychologically. In this essay, we will discuss in detail the cause and effects of working long hour.
Due to this competitive environment work pressure has increased nowadays. Every organisation wants to do something different and new. Due to which pressure on employees has increased. Technology advancement is another factor which has increased pressure on employees. It has enhanced the market, now customers are connected to a company through various sources.
Everything is available online, no doubt it has made everything easier but it has also increased pressure on companies and its employees. For eg., There are departments for everything like sales, customer care who are available 24/7, after sales, enquiry etc. Now an employee's job does not end at the sale of a particular product, he has to take feedback from the customer, provide a customer after sale services etc. Almost every company is giving these kinds of facilities. Even in some companies, employees have to work extra hours and at weekends also.
So people do not have time for their families, friends and children. Consequently, more families are separating than ever before because couples do not have time for each other. Children also feel neglected and sometimes they fall into bad company. It is also affecting employee's health. Due to work pressure, he can't eat properly and can't do any physical exercise which in return affect him physically and mentally too. If an employee is not fit physically and fresh mentally he can never give his 100%.
To conclude, excessive work pressure is affecting both employee and company. An employee's personal life is affecting which is affecting his efficiency and productivity. Hence company is affecting as employees play a vital role in a company's success and profitability. Companies should implement shift model and limited work hours.
Academic Essays –
Advantages and disadvantages of foreign workers essay
Extreme sports advantages and disadvantages essay
To stay updated, like us on Facebook.