Transition Words For Essay Writing with Examples – PTE & IELTS
Here we will explain foremost important and difficult parts for writing an essay. First of all, take a view of these good words to use for essays. Now, we will explain how to use transition words for essay writing in your academic exams. By using these simple transition words for essay, you can score well in your PTE writing essay.
Connectives or Transition Words For Essay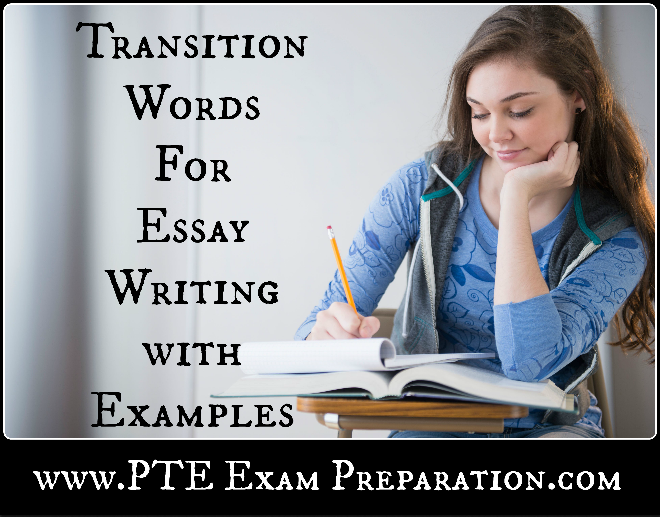 Question – In most of the education system students are assessed by written examination. Do you think it is a good idea or not. Give your opinion.
Sample – In the tech-savvy era, it is an irrefutable fact that education has changed significantly. Some people think that assess performance through written examination is still valid whereas another mode of assessment is available. I will discuss my viewpoint in the upcoming paragraphs.
To begin with, written examination happens to be the most fundamental and essential part of education start from kinder garden to the higher level of degrees. With written examination, the teacher will come to know about the grammatical mistakes, spelling mistakes and perception of children so that it can be reduced these errors by checking. Adding, re-evaluation of exam facility is available in the written examination.
On the other hand, as the technology is progressing leaps and bounds, there have been many changes seen in every field. Some teachers use another mode of assessment for children like oral presentation through PowerPoint. It proves to be the best ways to build up the confidence to speak in front of others. It is suitable for those children who are not able to write well in the examination. For instance, one of my friend who did not well in writing but he had good oral fluency so he got selected in the multinational company. These modes create practical ideas. It is well said by Albert Einstein, "Imagination is more important than education".
To conclude, it can be said that assessment through written examination can be taken as highly rewarded but other modes of assessment should not be marginalized.
♦ Note – 
In red text, you can see connectors
In green text, you will see predefined lines or templates
To stay updated, like us on Facebook.