Udaan Yojana Essay for School and College Students – Udan Scheme Essay
Read a full report Udaan Yojana essay in 300 words. Recently this question was asked in many exams. What is the meaning of Udan Yojana? Why Prime Minister of India started Udaan Yojana? You will get all your answers in Udaan Yojana essay.
Udaan Yojana Essay – Udan Scheme Essay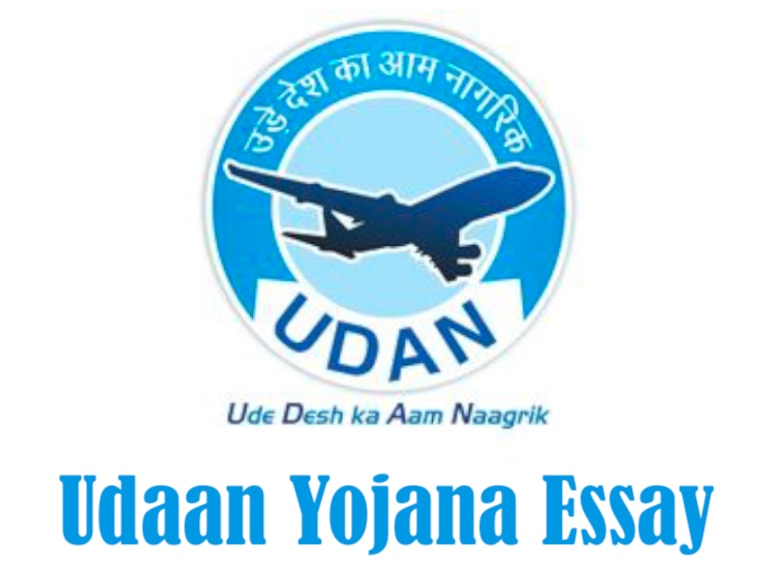 Uday Desh Ka Aam Nagrik (UDAN) is a regional airport development and regional connectivity scheme(RCS). Prime Minister Narendra Modi inaugurates Udaan scheme by flagging off the first flight between Shimla and New Delhi on 27th April 2017. The primary objective of this mission is to "let the common citizens of the country fly" that is making air travel affordable, widespread and to boost economic development.
This scheme is a component of national Civil Aviation policy (NCAP). A total of 128 Roots have been a specified after bidding process under this scheme. These roads connect 70 airports including 31 unserved and 12 underserved ones. The airlines selected after bidding have to provide a fixed number of seats at Rs 2500 for 500 km and remaining seats would be at market price. This low price is to be achieved through government viability gap funding (VGF) and 20% of the GF is to come from States.
The main advantages of this scheme are that it would lead to the development of a small city, affordable and faster air connectivity bill also promote the tourism sector in India. Also, investment, infrastructure and Employment creation would be other significant benefits.
The scheme SST challenges such as administration of VGF may require scrutiny of Airlines balance sheet, VGF would also result in another subsidy burden on government capping affairs is criticised as Airlines argue that it should be a function of demand and supply.
Nevertheless, if implemented and monitored properly it would provide a Win-Win situation for all stake shoulders. The citizen would get the benefit of affordability, connectivity and more jobs. It will likely to give a measure flip two tourism and Employment generation in the country.
To stay updated for more info like us on Facebook.