Saubhagya Yojana Essay for Students
Read an essay on Saubhagya Yojana. What is Saubhagya Yojana? Know more information about Saubhagya Yojana essay for students of class 1, 2, 3, 4, 5, 6, 7, 8, 9, 10, 11 and 12. The question was asked in many English exams and students did not know anything about Saubhagya Yojana.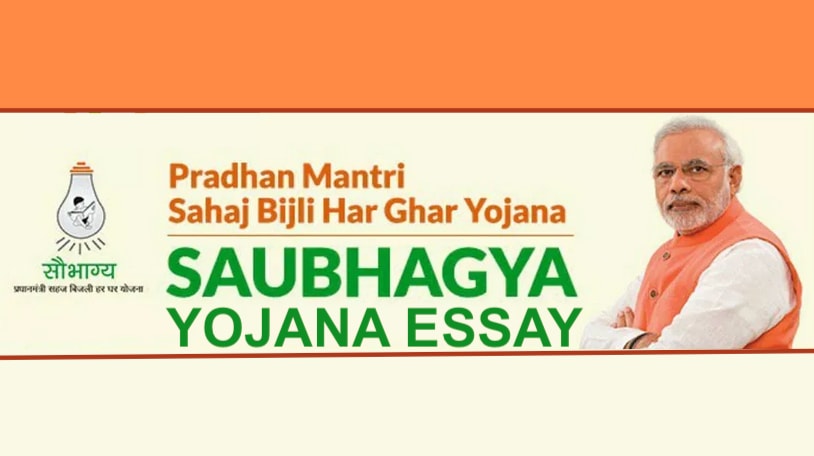 Saubhagya Yojana Essay
On the eve of antyodaya adivasi September 2017, Prime Minister Narendra Modi launches rupees 16320 crores, Pradhan Mantri Sahaj Bijli Har Ghar Yojana- Saubhagya which aim to provide last mile electricity connectivity to all rural and urban households. Under the ministry of power, the Rural Electrification Corporation Limited (REC) will be the nodal agency of this mission.
Even after the 70 years of Independence, there are around 4 crores unelectrified household in the country, but under the scheme, 3 crore families living under poverty line will get free electricity connection for 5 years, while other well be charged Rs 500 per month. The beneficiaries for free electricity connections would be identified by using socio-economic and caste census (SECC) 2011. Moreover, this mission indirectly provides access to various benefits like improvement in communication, health services, public safety, agriculture techniques, increase in job opportunity, and provide a better quality of life especially for women. For this government is targeting March 31st 2019 to achieve the goal.
Some challenges also come in the way of saubhagya scheme such as illegal connection by households, power wastage, power theft, frequent power cuts, proper grounding, wiring and insulation of wires etc.
For the easy and accelerated implementation of the scheme, modern technology should be used for the household survey by using the mobile app, the beneficiary shall be identified and registered on the spot, the gram panchayat should be authorised to collect application form with complete documentation, distribute bills and collect revenue.
The Saubhagya Yojana is a package of electricity, employment and health benefits for the people and it will brighten the lives of crores of Indians and give wings to Indian's development journey.
To stay updated for more info like us on Facebook.