Raksha Bandhan Essay
Read raksha bandhan essay in English for students of class 1, 2, 3, 4, 5, 6, 7, 8, 9, 10, 11 and 12. Know more about essay on raksha bandhan in English.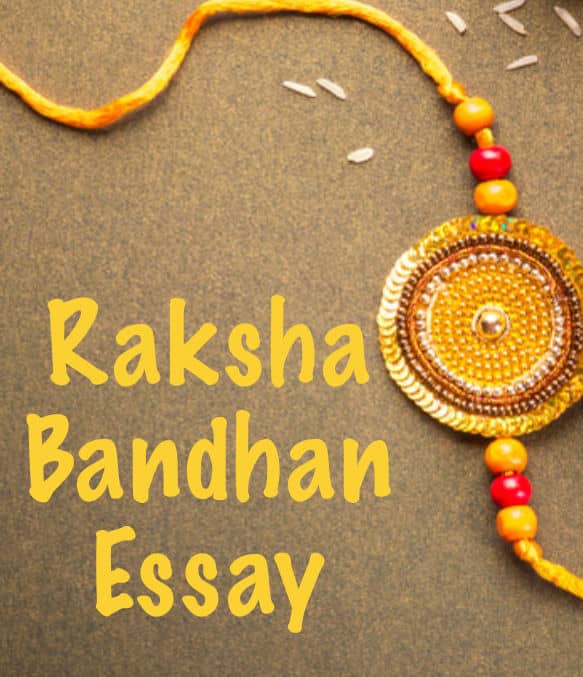 Raksha Bandhan Essay 300 Words
Raksha-Bandhan is one of the precious and lovely festivals celebrated in India. This festival exhibits the love and bond between the siblings and specifically between a brother and a sister. On this special day, sisters tie rakhi-a decorated thread on the wrist of brothers. This thread is a symbol of love and respect sisters have for their brothers. Sisters wish and pray for the long and successful life of their brothers whereas brothers take a pledge to protect their sisters from iniquity and dangers. Also, they both exchange gifts, chocolates and other items on the occasion of Raksha Bandhan.
Raksha Bandhan is celebrated on the day of Purnima or full moon day in the month of Shravan or August. This festival idolizes the lovely bond between brothers and sisters and reminds us of the good times spent with each other. Every year this festival is eagerly awaited by brothers and sisters to show love and shower blessings to each other. Every girl out there seems to be obsessed to buy the best gift for their brothers.
On the day of rakhi, family members especially dress up beautifully in ethnic style to celebrate this festival. They prepare a thali decorated with various items including rakhi, a tikka, a mauli-a holy thread, some sweets and chocolates. Rakhi preparations start before a month, markets are full of colourful rakhis and gift items. Every year, you can see a new variety of rakhis coming into the market. Some people specially customize rakhis with the name of their brothers on it. Whereas women keep on shopping for the best rakhis, the brothers, on the other hand, start shopping for gifts for their sisters.
In a nutshell, Raksha Bandhan is a festival of joy and love. It strengthens the bond between a brother and a sister and makes it stronger. With each passing year, the love and affection between them keep on increasing.
Know More