Rainy Season Essay
Today we are writing an essay on rainy season in English in 300 words. Essay on rainy season for students of class 1, 2, 3, 4, 5, 6, 7, 8, 9, 10, 11 and 12.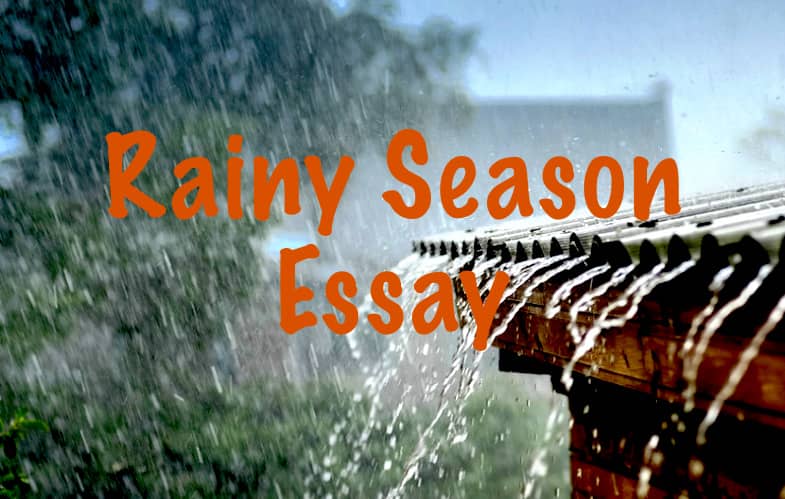 Rainy Season Essay 300 Words
Rainy season is one of the most-awaited seasons of the year. It makes the weather very pleasant and gives a sense of peace and joy. Countries like India are usually hot during summer months when the temperature is nearly 45 degrees. This makes the land hot and rivers dry up due to so much heat. Summer brings scarcity of water everywhere. Birds, animals, and even human beings cannot survive without water, therefore all these living beings eagerly wait for the rainy season as it helps in raising the water level that usually sinks due to the scorching heat.
The rainy season starts in the mid of June and lasts till mid-September. During rains, the sky is mostly dark and dusky and the clouds keep moving. Sometimes the rains are accompanied by storms, thunder and lightning. However, the rainy season is considered as the most beautiful part of the year as it brings happiness all around.
In India, a large number of people depend on agriculture as it is the main occupation of the people over there. Therefore, the rainy season plays a significant role in their lives as a large amount of water is required for agriculture.
As a result, the economy of countries like India largely depends on the monsoons. A flourishing monsoon season will give a good yield whereas a weak monsoon can lead to starvation and drought. Hence, the rainy season is the most pleasing season of the year. Rainfall also helps in restoring the freshwater that gives a new lease of life on the planet.
Also, water in the form of rain is essential for all life forms on the planet. Without rainfall, many areas in different countries may turn into a dry and desolate land. This will lead to ecological imbalance which negatively affects the life on earth.
Know More