Kaziranga National Park Essay
Read Kaziranga national park essay for class 1, 2, 3, 4, 5, 6, 7, 8, 9, 10, 11 and 12. Know more about an essay on Kaziranga national park in English for students in 300 words. Write a short essay on Kaziranga national park for kids.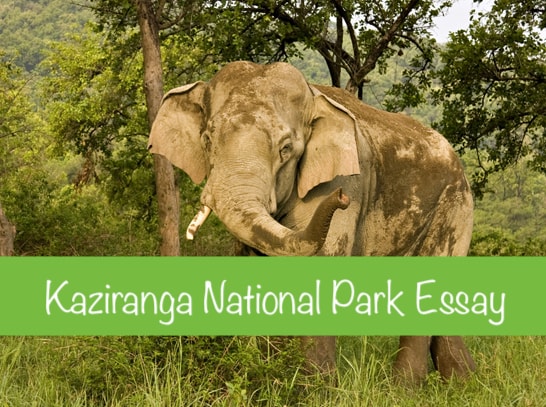 Kaziranga National Park Essay 300 Words
Kaziranga national park is situated in the Golaghat and Nagaon district of Assam and is known to preserve the one-horned rhinoceros in its reserves. This national park comes under the world heritage site of UNESCO and contains two-third of the total population of rhinoceros. Kaziranga national park covers 430 sq km of area and is home to a variety of wildlife species including tigers, elephants, wild buffaloes, swamp deers and much more. Not only animals but this park houses a wide range of birds and is a great destination for the bird lovers.
Kaziranga has a huge list of vegetation and plants life and the plants are classified into three sections namely tropical evergreen forests, alluvial inundated grasslands and tropical semi-green forests. The park is chiefly recognized for its tall elephant grasses and swamplands. It also contains a rich variety of water hyacinths, lilies and lotus which makes the land purely majestic and beautiful.
The major population of wild water buffaloes and one-horned rhinoceros is located in this prestigious national park. In addition to this, the Bengal tigers, Asian elephants, buffaloes, rhinoceros, and swamp deers are some of the prominent wildlife of this park. It contains more than 30 mammals out of which 15 species are under endangered group. Some of the other wildlife includes white-browed gibbon, Indian gaur, Indian wild boar, barking deer, Bengal fox, Indian mongoose, Chinese badger, sloth bear, Assamese macaque, leaf monkey and much more.
So, one must visit such a renowned place that has a lot to exhibit and makes us realize the wonders of nature. It is best to visit this national park between November and April as it closes during the monsoon season due to safety and security of the people. You can go for a jungle safari there and enjoy in the lapse of various flora and fauna.
Know More