Essay on Friendship
Read an essay on friendship in English for students of class 1, 2, 3, 4, 5, 6, 7, 8, 9, 10, 11 and 12. You can also write the same essay on true friendship or short essay on friendship day as well.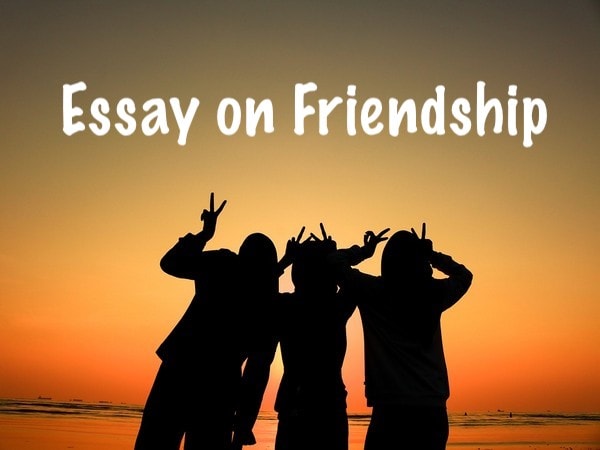 Essay on Friendship 300 Words
Friendship is a heavenly relationship based on the foundation of pure love and trust. It is a kind of blessing for those who have friends they can trust and rely on. This divine relationship is not defined by blood or resemblance. Friends are those who accept each other's differences and help you make a better person in life. A good friend will always be on your side no matter what and this is what makes this bond pure and great.
A friend is a person who can not only share your happiness but also cheers you up when you have sad moments in life. You can always rely on your friends in an hour of need and the one who is there for you every time is your true and honest friend. Life is incomplete and empty without friends so having friends on your side is a blessing from god.
The most integral part of friendship is honesty and without this, you can never earn a good friend in life. You both need to be honest if you long for everlasting friendship. An honest friend will always lead you in the right direction and helps you make correct decisions in life. Friendship should be quality and not quantity.
It would be enough if you have one or two quality friends rather than having hundred friends and no one of them to support in your good and bad times.
The other essential factor in the path of friendship is patience and tolerance. Accepting each other in every situation of life is what makes your friendship more deep and persistent. It's the responsibility of a friend to motivate the other to choose the right path and criticize if he's moving in a wrong direction.
Friendship gives you sweet and blissful moments in life. You can always commemorate those lovely memories spent with your friends and can feel happy whenever you have low moments in life. And if your school friend is still your best friend, you are the luckiest person on this earth.
All those senseless moments, fun times and even those hard times spent with your friends makes your life more meaningful and full of joy. Friendship is a kind of bond that goes beyond every limit and is all about giving without bothering about taking in return.
Know More