[Latest] PTE Essay Writing Topic: Short Essay on Mass Communications, Discuss Its Advantages and Disadvantages
What are mass communications? What are the means of mass communication or what are the advantages and disadvantages of it? What is your opinion?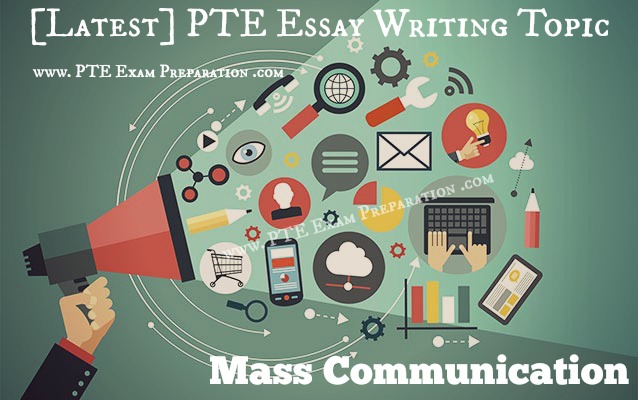 [Latest] PTE Essay Writing Topic: Short Essay on Mass Communications, Discuss Its Advantages and Disadvantages
Sample Essay –
As we all know, mass communication is exchanging or imparting information through a channel(medium) to a large no. of people at the same time. The goal of reaching as many people as possible is achieved via TV, radio stations, newspapers, magazines and social media like facebook and twitter. In short, we've more ways to reach out to more people than we ever had.
But mass media has its own pros and cons. A few are listed below.
PROS:
(1). It keeps us connected: We can get to know about what's happening all over the world.
(2). Helps in flourishing business: Thanks to advertising and marketing, a business can now reach potential consumers faster and easier than ever before. This helps in keeping our economy going.
(3). Gives voice to people: Media coverage by news channels of people in difficult situations let the world know about their problems, whose voices would have otherwise left unheard.
(4) . A great source of entertainment, of course. 😉
CONS:
(1). Empowers the already powerful: While mass media gives an opportunity to people to share their life stories, a majority of our mass media is bought, which means that the rich and the powerful greatly influence what we see, hear and believe.
(2). Spreading rumors, false information: No doubt a few sources of information are trustworthy but what about the rest? How do you know that whatever you hear or see is the truth or whether you are simply made to believe the lies?
Again the powerful have control over the mass media. They can make any news to the surface and can make any news to die down.
(3). Disconnecting people: While mass media can connect us to the people at far away places but it can disconnect us from the people who are right in front us. Whether it's a family outing or a get together at home, people are glued to the screen, ignoring the person sitting beside them.
People need to realize the difference between the real and the virtual world. Use mass communication to exchange information, but don't start living in that world. You have a life, live it!