Children's education is expensive. In some countries, the government pays some of or all of the cost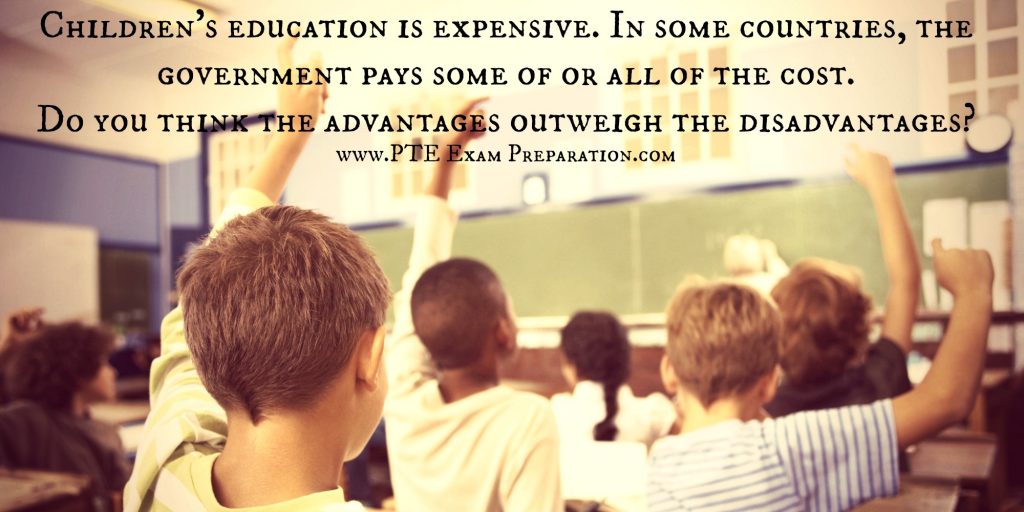 Children's education is expensive. In some countries, the government pays some of or all of the cost. Do you think the advantages outweigh the disadvantages?
SAMPLE ESSAY –
"Got offer letter from my favorite college but my parents can't afford it. I'll have to drop out." Ever heard someone say that? I'm sure you must have. Ever heard about super 30? Anand Kumar, the founder of super 30, had secured admission to Cambridge University but was not able to attend because of his financial condition. The government did not provide any financial support or sponsorship. He now, under super 30, provides IIT-JEE coaching to 30 selected students of economically weaker sections.
In some countries, the government pays for college fee partially or fully. If the government makes college tuition free, students who otherwise drop out because they can't pay the tuition fees, would be able to graduate without getting crushed under the student loan debt. They are able to focus on their studies instead of worrying about raising money to fund their education or about taking study loans. Many talented and deserving students don't even apply to prestigious colleges and get enrolled in some other affordable colleges.
On the other hand, if college is made tuition free, then more and more students would graduate without giving any importance to it. They won't learn to manage their finances at all. The value of their degrees would decrease. Many private institutes would shut down. The students wouldn't take their education seriously as it would come free. If the government decides to pay for the tuition fee of college students, the money has to come from somewhere. It would obviously be generated from taxes. The public would have to pay heavy taxes.
What government can do is regulate the fee structure of colleges or provide education free of cost to the talented, deserving students. If colleges are made tuition free for all, rich brats would also be there. It's not like extorting money from the upper class but to provide facilities to the deserving and needy candidates.
The way Mr. Anand Kumar runs his 'Super 30' batch under Ramanujan School Of Mathematics is just awesome. The government can take inspiration from him. He raises funds for his super 30 meritorious students by taking evening classes.
Whether the college fee should be paid fully/partially by the government is a debate worthy topic and up to the government to decide.