Triple Talak Essay
Triple Talak Essay (Essay Topics) – Write an essay on Triple Talak Essay in 300 and 500+ Words. This is the most common topic for English exam.

Triple Talak Essay for Students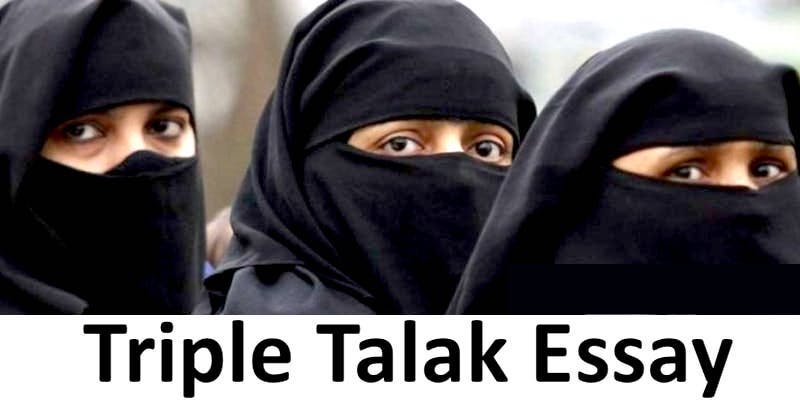 Triple Talak Essay 300 Words
Triple Talak, an instant divorce is a type of Islamic divorce which is used by Muslim men in India. It allows a Muslim man to legally divorce his wife by uttering 'Talaq, Talaq, Talaq' (the Arabic word for divorce) three time in oral, written off more recently by electronic means such as email, SMS and WhatsApp.
Triple Talaq is the 1400-year-old practice among Sunni Muslims. It is "manifestly arbitrary" and allows a man to break down a marriage "whimsically and capriciously". This has been an issue of concern for over 65 years for Muslim women in India, who comprise approximately 8% of the population as per 2011 census.
This weird and sinful culture adversely affects the life of Muslim women as it creates mental insecurity, threats of sudden divorce, and also encourages polygamy. Hence, puts a question mark on the Gender Equality, the dignity of women, justice, human rights and women empowerment.
In fact, many Muslim countries like Iraq, Saudi Arabia and Pakistan completely banned this unethical law. Our Government has also taken Stern step against this on 22 August 2017, India Supreme Court deemed triple talaq unconstitutional and also formulated a bill called The Muslim women (protection of rights on marriage) bill 2017 by which triple talaq in any form will be illegal and void with up to 3 years jail for the husband.
One thing is undeniable that once this Bill will become a law, no more Muslim women will face such adversity in future. But for that this situation should not be seen by religious eye and society should also come forward to act against this social evil without any prejudice. Because no nation can process without active and equal participation of women.
Triple Talak Essay 300 Words
Today we are living in 21 century and it's called modern era. Every individual or group have a fundamental rights, constitutional rights and human rights to raise voice against exploit tradition. India is a democratic country, the citizen of India follow and respect the constitution of India. In a democracy, every person has rights to express their expression against some unwritten law, which affects human life. Every community and every religion have its own personal low, which decides what is right and wrong tradition?
Now India facing triple talaq issue in the Muslim community. Especially, Muslim religion women are so much worst effect by triple talaq problem. It is a very old tradition. Triple talaq mean is just say 3 words (talaq, talaq, talaq) the relationship between husband & wife will be finished. It is a form of divorce. Muslims women are always afraid of this triple talaq. This type of tradition is practicing in India. Only small matter, male dominant gives threat triple talaq. As Muslims community can legally divorce his wife by pronounced three times talaq. Pronouncement can be oral or written. Today youth is misusing the law and they use social platforms like telephone, SMS, Facebook, etc. The life of women and children gets destroyed. A divorced woman may not remarry her divorce husband unless she first marries another man called nikaha halala.
When Narendra Modi started a campaign for Uttar Pradesh election 2017, Muslims women raise the issue in that government should find out any solution of it. It has been subjecting of controversy and debates, raising the issue of Justice, gender equality, human right and secularism. Muslim marriage in India is considered to private matter as they follow Muslim law, but if the couple wants they can register their marriage under special marriage act 1954. PIL was in Supreme Court against this. On 22 August 2017, the Indian Supreme Court deemed instant triple talaq.
More Essay Topics
Sukanya Samriddhi Yojana Essay
Note – Write a Triple Talak Essay in your own words and send us through comment box. Let us know your view on Triple Talak essay.