Mother Teresa Essay
Read mother teresa essay in English language in 300 words. Know more about short essay mother teresa for students of class 1, 2, 3, 4, 5, 6, 7, 8, 9, 10, 11 and 12.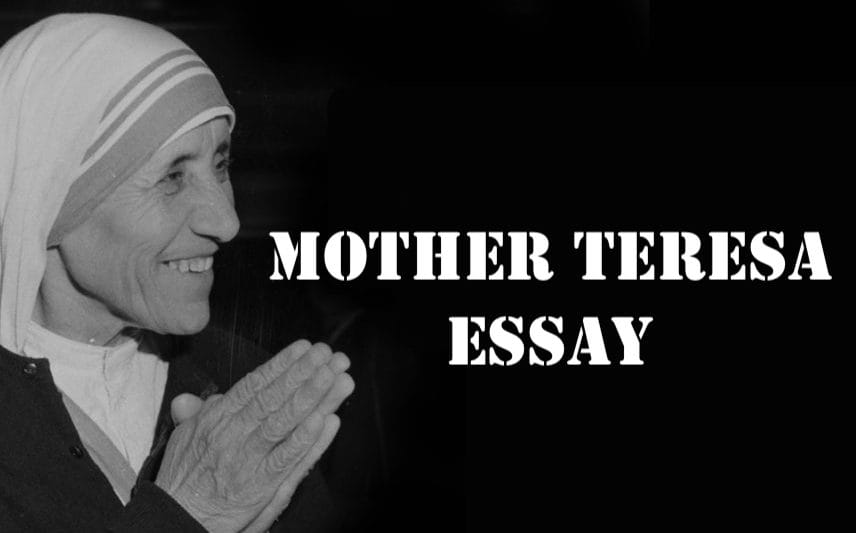 Mother Teresa Essay 300 Words
Mother Teresa has done many humanitarian acts and has served many people throughout her lifespan. She was a lady with a kind heart and great calibre and she used to help poor and unprivileged people without having any selfish interests. Mother Teresa does not belong to Indian nationality, nevertheless, she still came to India to help the people in need.
The real name of Mother Teresa was Agnes Gonxha Bojaxhiu, and she was born on 26 August 1910 at Skopje, Macedonia. Nikolle and Dranafile Bojaxhi, her parents had three children and mother Teresa was the youngest one. When she was just 8 years old, her father died in the year 1919.
Mother Teresa got this name after she became a nun in the church St. Teresa. She was born in a Christian family and she had a great interest in religious activities. She also joined many religious groups that spread religious beliefs by travelling to different countries.
Mother Teresa had a great interest in preaching from an early age and at the age of 12, she was committed to becoming a religious missionary. At the age of 18, she left her home town and got associated with Loreto Sisters- who were Irish nuns in Rathfarnham, Ireland. She received her training in Dublin and Darjeeling and took her first religious vow in the year 1928.
In the year 1931, she was committed to being a nun and then she founded- "Missionaries of Charity". It was a Roman Catholic religious team of worshippers that have the prime objective to serve humanity and to help the hungry, homeless, naked, and unprivileged people.
Mother Teresa was truly dedicated to uplifting the society and helping the people. She received many awards and accolades for the same. Mother Teresa was also honoured with the 'Nobel Peace Award' in 1979. She also received 'Bharat Ratna' in the year 1980. She died on September 5, 1997, in Calcutta, West Bengal. People all around the world admire her inner beauty and charm and she is still alive in the hearts of people.
Know More
Mother vs Father Parenting – Are Mothers Better Parents Than Fathers