Mango Essay
Learn how to write Mango essay in English language in 300 words. Know more about an essay on Mango for students of class 4, 5, 6, 7, 8, 9, 10, 11 and 12. Now you can also write short Mango essay for kids in 300 words.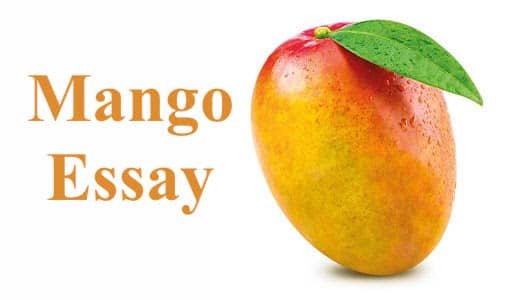 Mango Essay
Mango also is known as Mangifera Indica is considered as the king of fruits. It is one of the ancient fruits in the history of mankind and is much-loved fruit in the country. This fruit is mentioned in various literary works and is considered as the most prominent and hot selling fruit in the fruit industry. Mango is the national fruit of India and Indian people are obsessed with this fruit in the summer season. Mango is a powerhouse of vitamins and minerals and has great nutritional value. It is known to reduce anaemic issues in people and provides iron which increases haemoglobin in the blood.
Mangoes come in diverse varieties according to their shapes, colours, sizes and other things. It is a quite appetizing and healthy fruit and is one of my favourites. Mangoes can be used in many other forms such as they can be consumed directly or can be converted into sauces, pickles or juices. For this, we usually require unripe mangoes.
Mangoes usually grow on 15-30 meters high tree that has evergreen leaves. This fruit is usually consumed in the summer season as the trees bloom during the winters. Mangoes have a huge demand in India as various types of pickles are prepared in different regions of India. They are also used to prepare jams and chutneys which are immensely loved by kids.
Farmers usually produce a huge amount of mangoes as they have great demand in the market. People usually eat mangoes every day during summers as a dessert. Many people love mango ice creams and sundaes as it has a great taste and people feel delighted once they take a bite of it. This fruit has been liked and loved all over the world and is cultivated in various other countries due to its yummy taste and greater health benefits.
Know More