Essay on Poverty
Read essay on poverty in English for students of class 1, 2, 3, 4, 5, 6, 7, 8, 9, 10, 11 and 12. Know more about short essay on Poverty in India in 300 words.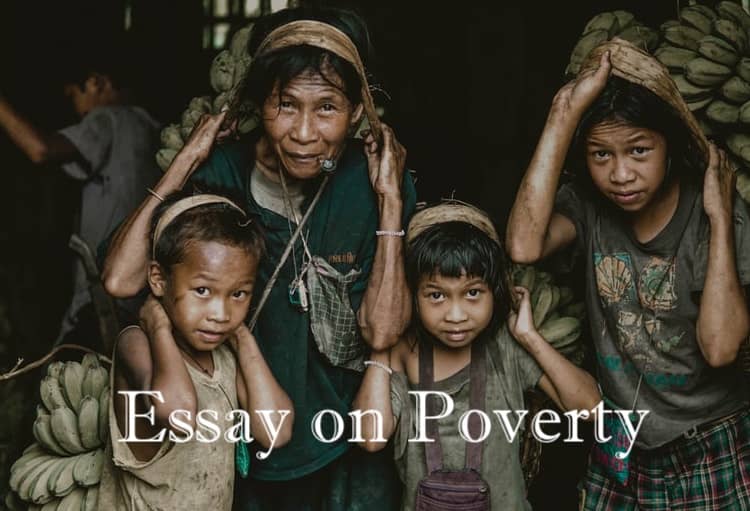 Essay on Poverty 300 Words
Poverty is defined as a condition wherein people of a family are underfed and cannot meet the basic necessities of life such as food, shelter and clothing. This further leads to malnutrition, unemployment and lack of education. Obviously, a person who has nothing to eat and wear, cannot afford education and thus remains unemployed. Thus, poverty is the underlying cause of every problem arising in the world.
According to a great personality namely, Nelson Mandela-poverty is not natural rather it is man-made. And this statement is completely true as we can count various causes of it but the most fundamental cause is overpopulation. Increasing population is placing a burden on the country's economy and the resources are getting depleted day by day. Obviously, it is not possible for the government to provide food, shelter, and education to such a large number of population. However, they are still making efforts to help the people in need.
The other main causes of poverty include lack of jobs, lack of education, natural calamities, political reasons and much more. However, the lack of employment is the reason why most of the people in the world are not able to fulfil the basic needs of life. Lack of infrastructure is another reason behind poverty as if there are no industries or banks in the cities there will be no employment.
Wars are also among the reasons behind poverty-stricken countries like Africa. Most of the money and resources are usually spent on wars leaving behind nothing for the common population. Natural disasters like floods, cyclones, earthquakes also lead to poverty and demise.
Government is making several efforts to reduce poverty and create balance in everyone's life. Some of its measures include compulsory and free education for children up to 14 years of age, providing scholarships to deserving students, gas subsidies and much more. So, poverty is something that can only be eradicated with time and money.
Know More
Should rich countries forgive all debts for poor countries
Should wealthy nations help poor nations