Drug Abuse Essay
Read drug abuse essay in English for students of class 1, 2, 3, 4, 5, 6, 7, 8, 9, 10, 11 and 12. Know more about dangers of drug abuse and also get drug abuse essay conclusion. Now write a short essay on drug abuse in 300 words.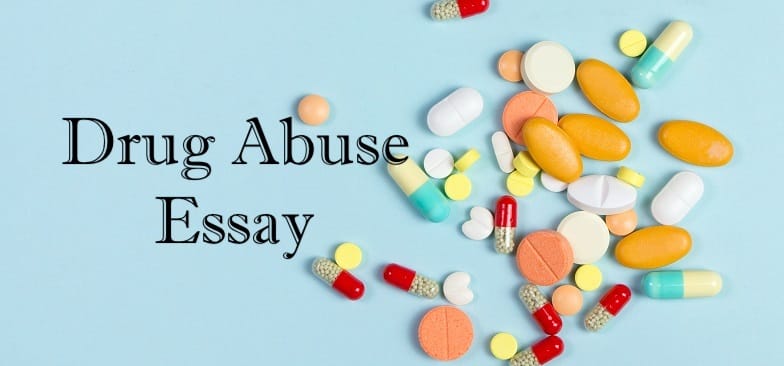 Drug Abuse Essay 300 Words
Drug abuse is something that ruins one's life and leads to great grief and misery. Drug abuse implies the use of drugs in a way that harms the body of an individual. If drugs are taken beyond the subscribed limit, they negatively affect the body and poses a great threat to life. It leads to serious mental and physical deterioration. Drug abuse not only affects the individual who is a victim to it but also destroys and tears apart their family and love life. People who are victims of drug abuse also suffer from financial loss as they do not have the potential to do any kind of work and thus it leads to unemployment and greater family issues.
There are numerous reasons behind drug abuse, let's take an insight into the things that lead to drug abuse – Many parents nowadays do not focus on their children as they are much busy earning their livelihood. However, the children feel ignorant and thus start using drugs at an increased level which makes them addicted to it and ultimately make them drug addicts. So parents need to supervise their children so as to avoid such situations.
Then comes lack of communication, teenagers and their parents are unable to talk to each other over certain issues due to age gap and thus teenagers seek advice from other people who may convince them to take a drug overdose. So it's high time that parents should become friends to their children and listen to their problems patiently.
There are various risks associated with drug use. This not only affects the health of the user but also ruins his family life. His relationship with friends and society starts deteriorating day by day and this leads to depression and anxiety problems. Sometimes, this drug abuse proves to be fatal for many people and ultimately destroys one's life completely.
Certain ill effects of drug abuse include drug addiction, accidents, mental illness, heart problems, and much more. So a person suffering from the consequences of drug abuse must go through a multifaceted treatment that proves to be effective and helps them come out of this deadly situation.
Know More