How to Write an English Research Paper: A Guide for Foreign Students
The purpose of research papers is to test a student's knowledge on a particular matter. It is based on a student's research and their ability to analyze and interpret the results. Writing an English research paper can be challenging even for people who are fluent in the language. It is even harder for international students who are not native English speakers. However, it is vital to believe that you can write an impeccable research paper with excellent grammar. Here everything that foreign students need to know about writing a high-quality English research paper: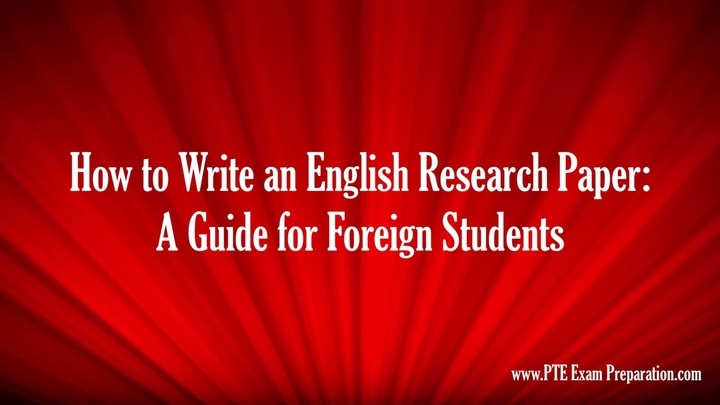 1. Understand the requirements

You must understand what your professor requires from you. That helps you plan on how to deliver satisfactory content. Writing guidelines differ depending on your institution and instructor. Your score also depends on your ability to follow the rules. Feel free to ask your professor to clarify any vague instructions.

2. Your choice of topic

Your professor may provide a variety of titles for you to choose from or ask you to come up with one. Consider your interests and what challenges you. Your attitude and effort will depend on how much you enjoy writing the paper. So, you should go for an exciting topic and make the assignment easier for you. With that, you can enjoy a more comfortable time researching and writing the paper. Avoid general issues and those that are not worth arguing. Consult your instructor to ensure that he or she approves of the topic. 

3. Research

It is one of the most critical steps. Your research needs to be deep and extensive. You should get all the relevant information that you can. Restrict your sources to academic material like books, government reports and publications, and newspapers. Keep a record of all sources to make citation and referencing easier. Once you are confident that you have all the necessary information, you can start organizing your work.

4. Thesis statement

That is a statement of the main idea of your paper. It is a summary of your essay. Every point in your essay should be in support of the thesis. It should be tentative, clear, and well formulated. Therefore, it is essential to spend some time coming up with the most-suitable dissertation depending on the title of your research paper.

5. Construct an Outline

The outline helps you plan and organize your ideas. Your ideas should flow according to how they relate to one another. Each preceding argument should support and add more information to the former. Create subheadings for different parts of your paper. Come up with a list of ideas to support each subtitle. With that, all you have to do is join the thoughts in your writing.

6. Write your research paper

The outline acts as a guide for how your writing should flow. Begin with a draft. Analyze, explain, and organize your ideas as they appear in your outline. Ensure that you provide all the relevant details. Read through your draft to ensure that your points flow effortlessly. Make all appropriate changes to perfect your work. Not sure that you can do it all by yourself? Get a research paper for sale at Copycrafter.

Once satisfied that you have all information in the right order, you can now use the draft to write the final document. It should have the following sections:

a) Introduction

This part tells the reader more about the paper. Is it an argumentative, persuasive, or factual piece? Keep it short but detailed. It should encourage the reader to continue reading. Include your thesis statement as the final statement in the paragraph.

b) Body

That is where you present all your points, starting with the strongest ones. Support each point with facts. The body should have different sections with different titles. All of them should support your main topic.

c) Conclusion

This part includes a summary of your points and your judgment. In case your paper is inconclusive, inform your audience that the issue needs further research. It should be engaging and straightforward. It should leave the reader feeling satisfied with the content.

Besides including all relevant information, your English research paper should be free of errors. Use the necessary tools to correct grammatical and syntax errors and ensure proper punctuation. It is also vital to cite all sources of unoriginal content in your paper. Include a reference list for the sources. The citation style depends on the instructions of your professor. Use a referencing generator to make citation easier. That helps avoids plagiarisms. With that, you can submit a high-quality output that meets the expectations of your instructor.