People attend college or university for many different reasons
People attend college or university for many different reasons (for example, new experiences, career preparation, or to increase knowledge). Why do you think people attend college or university? Use specific reasons and examples to support your answer.
People attend college or university for many different reasons like new experiences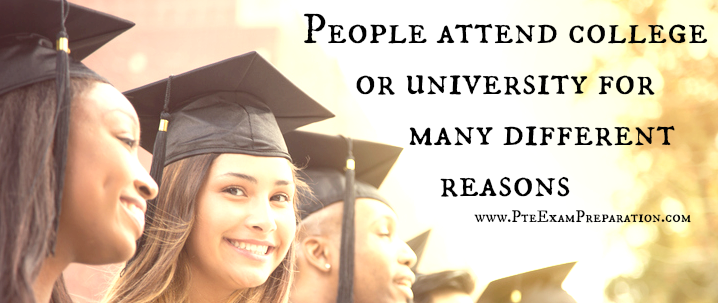 Many individuals have their own reasons for going to the university like for new experience, career preparation, to increase knowledge. Generally, it is believed that individual attend college or universities to gain the qualification which helps them to prepare for their future career. This essay will highlight other points and discuss how much it is important for an individual to attend university or college.
The most common way of acquiring an education is going to colleges and university. These educational institutions ensure the proper theoretical and moral education to build the ideal citizen. They prepare themselves for the future. Through these educational institutions, one learn values, ideas, knowledge, and education to make them good human. Many people go to universities to expand their horizons and think beyond their standards. This helps them to improve their job position and salary. In the competitive world of the 21st century, almost all people wanted to be on the top of the ladder.
Now people attend colleges because there is no alternate solution as the people of the past century had. For instance, a self-educated person could gain a good career in the past, nowadays it is almost impossible because companies requiring a degree level. So this makes everybody necessary to attend colleges and university.
In conclusion, there are many reasons for people to attend colleges and universities like getting the education, learning new things, experiencing diverse cultures and customs, getting prepared for the future career, improving job position, subject matter interests and social status.