PTE & IELTS Writing Task 2 Sample Essay – Some people think that job satisfaction is more important than job security
Finding job satisfaction is considered to be a luxury in many developing countries. Some people think that job satisfaction is more important than job security. Others think that people cannot expect to enjoy a job and having a permanent job is more important. Discuss both views and give your opinion.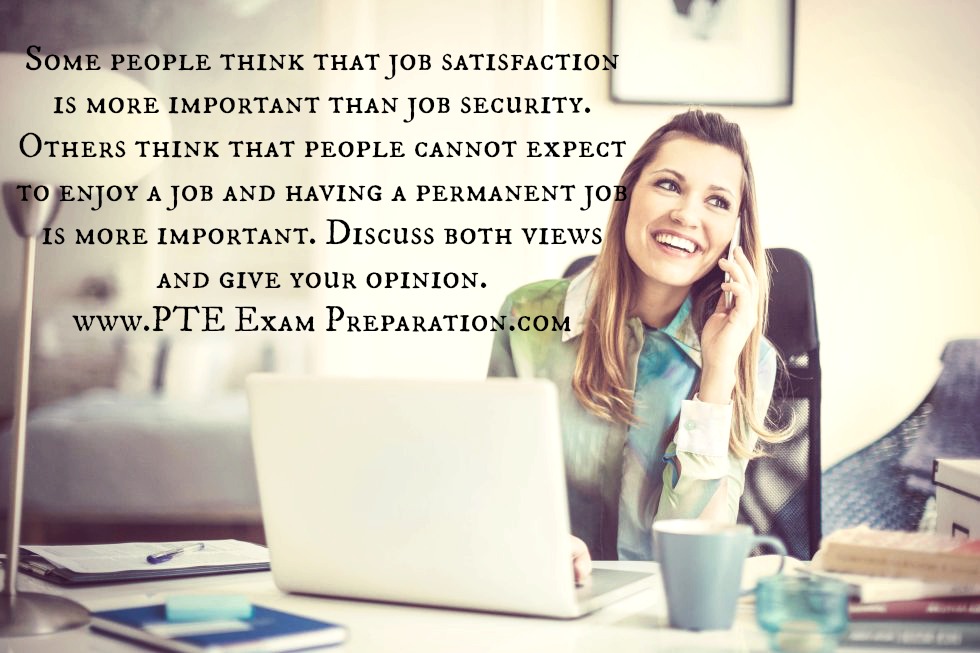 Sample Essay –
Suppose you are earning 80,000 per month from job A. But you hate your job. You always feel sluggish, fatigued, sad and depressed. The only reason you are stuck with that job is money. Now suppose there's a job B for you which pays you 40,000 per month. That's half of what job A pays you. But job B excites you. It makes you feel alive. You love job B.
Measure the difference in happiness between jobs A and B. Can the extra 40,000 you earn compensate for your happiness? That extra 40,000 can't be saved anyway. You are going to pay your medical expenditures with that. How? Obviously, that sadness and depression are going to take a toll on your health.
Many people argue that life is not that easy. Job security is important than job satisfaction. One can not be expected to be happy just because he/she is enjoying his/her job and job security is necessary. Ok! Money is important. We need money to survive, to pay bills, to meet daily expenses. But money is not everything. Your happiness matters. Saying that the pay is good but I don't like my job and I'm unhappy, then it's your decision to be unhappy and miserable. It is! Our ultimate goal is not to deposit money in banks but to be happy, to be satisfied with ourselves.
Ever heard about Sandeep Maheshwari? He's one of fastest growing entrepreneurs of India. He dropped out of KMC, Delhi in the 3 rd year of b.com. He's the founder and CEO of imagesbazaar.com. What did he do? Photography! He wanted to do it, so he did it. Sushant Singh Rajput was in the final year of his b.tech degree when he decided to drop out from IIT-B to follow his passion of acting. Did he have any job security? No! And look at him now. He couldn't be happier. Just going after money and job security might make you feel safe for a short span of time, but going after your passion and satisfaction would generate the long term happiness. Your focus should be on the long term goals rather than short terms. People happy and content with their jobs have a greater earning potential.
In the end, it's better to be happy. It's better to be a designer than a wealthy lawyer who can't get out of depression.