Students should be required to stay in school until the age of eighteen – PTE Essay
Everyone should stay in school until they reach the age of 18. To what extent do you agree or disagree? Students should be required to stay in school until the age of eighteen – PTE Essay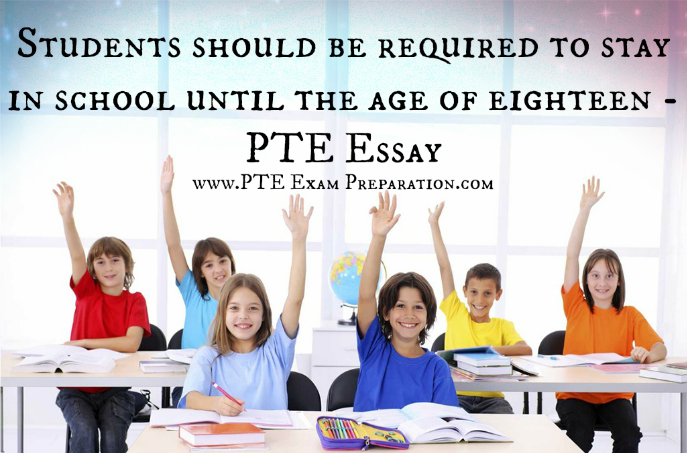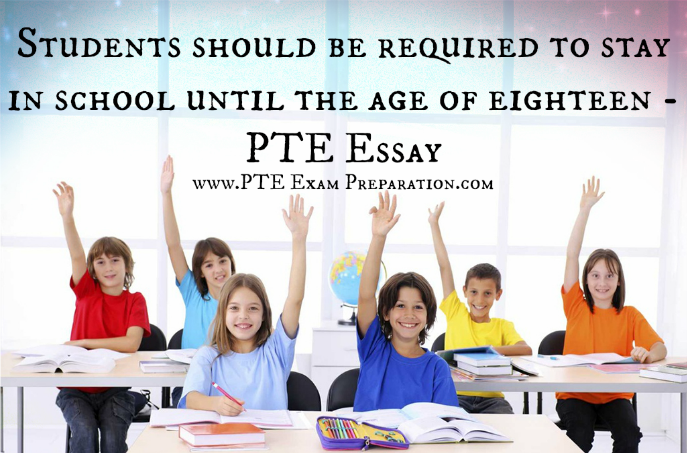 Students should be required to stay in school until the age of eighteen – PTE Essay
I do agree with the statement everyone should stay in school until they reach the age of 18. Education is must for everyone. It plays an important role in everyone's life. Without education and knowledge, you can not survive in today's world. The society is very competitive nowadays if you want to succeed you have to get the proper education for that. However, some people think education is of no use for them who wants to pursue their careers in some other fields like singing, dancing, painting etc. But in my opinion, education is must for them too, until the age of 18, they also should go to school after that they can peruse with their respective careers. There are some of the things which we can learn in school only like discipline, how to talk to someone, how to make friends etc and every profession requires these things. So going to school can teach you good things which will help you in every stage of life.
PTE Essay writing do's and don'ts
Also, there are many benefits of making education compulsory till the age of 18. Some of the benefits are, it will increase country's literacy ratio, which is good for every country. It will reduce the child labour which is again very beneficial for every country. Making education compulsory till 18 will enables the students to acquire sufficient education. It is also beneficial for them who dislike education or who wants to become an athlete or a player or a hairdresser or a dancer etc. Because in every profession you have to interact with many people and education will teach you how to talk to them and most importantly how to behave in any situation. I know some people think it is wastage of time and money for them but I totally disagree with them.
To conclude, I would suggest making education compulsory till the age of 18. Firstly it will help in one's personal and professional growth, secondly, It will help in that country's growth also. And thirdly a child learn major lessons of his life in school like honesty, self-control, confidence, kindness, moral duties etc.
PTE New Essay –
It is argue that getting married before finishing school or getting a job is not a good choice.
Today the high sales of popular consumer goods reflect the power of advertising Simon.