PTE & IELTS Writing Task 2 Sample Essay – Do Advertisements Reflect The Quality Of The Product
Today, the high sales of popular consumer goods reflect the power of advertising and not the real needs of the society in which they are sold, To what extent do you agree or disagree?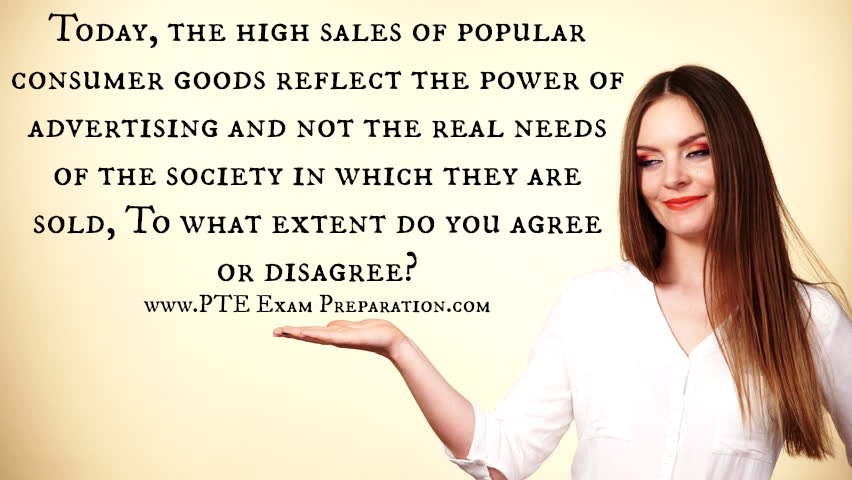 Sample Essay –
Bought Loreal Paris because you saw Sonam Kapoor advertising that it would give you shiny, smooth hair? Drink coke with pizza because Dominos says pizza tastes best with coke? Bought a new smartphone when you already had one? Have Kellogs chocos for breakfast because they made you think they are healthy? That's the power of advertising! Makes you buy things which you don't really need. It's a business. Advertising companies don't really care about the interests of the public. The high sales of popular consumer goods reflect the power of advertising. Yes, commercials provide us information about the new products which otherwise we might not come to know about.But the information part is very little. Ad gurus know to get consumers hooked to the cycle of purchase and spend. Ads are a great source of revenue. Popular celebrities or public figures are roped in to advertise the products because they have a huge fan following and a lot of people blindly follow them.
It's a psychological game! Take "Fevicol" for example. It has been commercialized so much that no one asks for any other adhesive. Does anybody ask for mosquito repellents? No! They ask for 'Good Knight'. If you have a marvelous idea but no one knows about it, it's not of much use. You can't execute it. You'll have to advertise it.
Advertising has its own advantages and disadvantages. The main advantage is that it can help an idea to reach out to masses and can act as a source of information. But it can be misleading too. Eg.patanjali products were advertised so much everywhere to be pure and so many started using those but now they are rumored to have failed every quality test.
We need to use our own brains. Not everything which is hugely popularized is in the best interest of the masses.