PTE EXAM ESSAYS – Company Top level Authorities should or should not take employees suggestions or ideas in the decision-making process
Write about the following topic: Company's top level authorities should get their Employees in the decision-making process. Discus Organisations involve employees in the decision-making process of their products and services. Discuss the advantages and disadvantages of both.
Complete the topic within 20 minutes. Write a 300-word essay.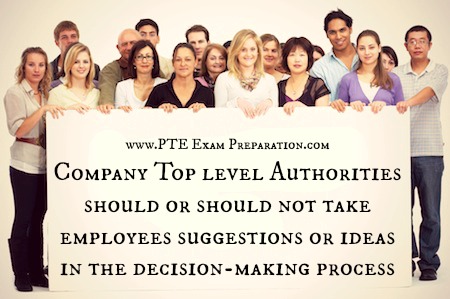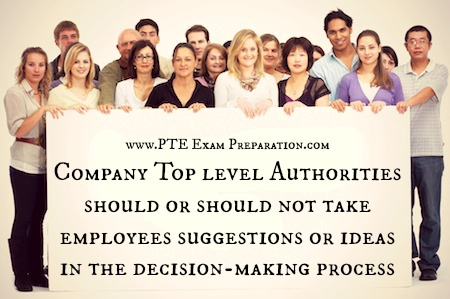 An organisation is recognized because of its employees as they are the pillars of an organisation. The employees are very crucial part of an organisation in the execution of top-level management cycle because the whole procedure revolves around them. Achievement of any organisation relies on the dedication and contribution of employees towards their organisation.
Employee involvement in the decision making with top level has numerous positive and negative outcomes. The advantage of participating employees in top decision making is that each employee gets a chance to express their opinion and to share their experience with top level management. Best results come when supervisors from various departments at all levels work with their subordinates on a project while demonstrating some level of freedom to the employees. Insufficient knowledge, non-effective use of communication, inexperience, egotism, industrial democracy, and poor decision-making skills create an unhealthy environment and reduced cooperation and coordination between employees and management.
Top level management ensures productivity of the employees by communicating an organisation's mission and values, clearly defining the work expectations, keeping the employees informed about their progress towards the achievement of goals and suggesting corrective actions for non-achievement of performance etc. These types of action by higher level develop a sense of responsibility in employees which improves their relationship with each other, thus benefitting the organisation in long run.
In conclusion, participative management does not mean a transfer of authority. It has to be in a controlled manner. Each and every aspect has to be studied carefully for participation at different levels. Employer creates such system through which employees are encouraged to share their knowledge for improvements in their work area. This increases teamwork and ensures better performance of the whole organisation.